From raucous nightlife venues to buzzing jazz clubs and spicy Creole cuisine, there are so many reasons visitors flock to New Orleans year after year. Even if you're not in town for Mardi Gras or Jazz Fest, there's always something exciting going on in the Big Easy. Plus, it's impossible not to be charmed by the picture-perfect French Quarter.
No trip to New Orleans is complete without spending at least a day exploring the historic French Quarter. Stroll around and marvel at the 19th-century French and Spanish architecture, pay a visit to the iconic Jackson Square, and go bar hopping on Bourbon Street.
If you want to explore outside of the French Quarter, visit Lafayette Cemetery in the Garden District, catch a live jazz performance in the Marigny, or check out the New Orleans Art Museum in City Park.
New Orleans also happens to be a foodie's paradise. If this is your first visit to the city you'll definitely want to indulge in a beignet at Café du Monde, snack on a pork belly po' boy at Killer PoBoys, and sample Cajun and creole dishes at Coop's Place.
The French Quarter is chock full of historic hotels, cute cottages, and modern boutique hotels. So many, in fact, that you might have a hard time choosing the perfect one. So we've created a list of the 12 best hotels in the French Quarter to help you plan your perfect getaway!
Note: Make sure you check out our list of the 65 best things to do in New Orleans before your trip!
Where to Stay in the French Quarter
Most of the best hotels in the city are clustered in and around the historic French Quarter. Whether you're in town to go wild at Mardi Gras, party on Bourbon Street, or explore the NOLA's storied history, the French Quarter has it all. Major attractions like Jackson Square, the French Market, and Preservation Hall are all located in the French Quarter, which makes it the perfect pick for first-time visitors.
If you want to be within walking distance of the French Quarter but away from the hustle and bustle of Bourbon Street, the Central Business District (CBD) is chock full of luxury hotels and affordable boutique hotels. The adjacent Arts and Warehouse District is not only home to some of the coolest hotels near the French Quarter, but you'll be surrounded by some of the city's best bars, restaurants, and art galleries.
For those wanting to stay in a more local and residential area, the Garden District boasts tree-lined streets, palatial mansions, manicured gardens, and tons of places to sample the local cuisine. Jazz lovers should consider basing themselves in the Marigny neighborhood, which has with some of the city's best live music venues. But no matter where you stay in New Orleans, there are tons of great hotels to choose from!
---
The 12 Best Hotels in the French Quarter
One11 opened its doors in late-2020 and stands proud as the first new hotel in the French Quarter in five decades. This former sugar factory is set in an 1884 building and is one of the last relics of New Orleans' historic "Sugar District." From the exposed brick walls to the iron columns, you'll find all sorts of original architectural features throughout this hotel.
Each of the 83 rooms is simple, sophisticated, and outfitted with contemporary furniture. Get comfy in the plush robe, curl up on the pillowtop bed, and have a relaxing movie night with the 55-inch smart TV. If you're celebrating a special occasion or a bachelorette party, the lavish penthouse suite is well worth the splurge.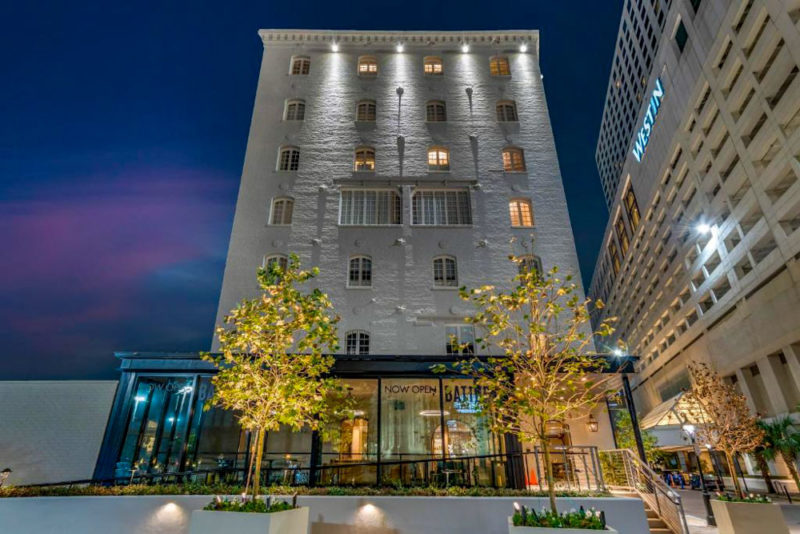 If you can manage to tear yourself from your dreamy room, you'll love all of the hotel's cool amenities. You can float the day away in the outdoor pool, warm up around the outdoor fire pit, and keep up with your workout routine in the fully outfitted fitness center.
Before hitting the town, head down to the hotel restaurant Batture Bistro + Bar for a leisurely lunch. The creole eggs Benedict, bananas foster Belgian waffles, and the NOLA deviled eggs with pork belly are all popular picks. If you want a boozy brunch, they also have bottomless mimosas!
---
The Hotel Provincial is one of the best hotels in the French Quarter if you want to stay in one of the area's famous haunted hotels. If haunted hotel rooms are your thing, definitely book a room in Building #5. If not, you might feel more comfortable in one of the other buildings.
One of the many unique things about this luxurious boutique hotel is that it's been run by the Dupepe family since it first opened its doors in July 1961! So expect to be treated like family during your stay.
The 97 rooms and suites are all tastefully outfitted with Southern antiques, beautiful period reproduction furniture, and Sealy Plush Mattresses. Upgraded suites come with brick fireplaces, lovely living rooms, and French doors leading to private balconies.
You'll love chilling out in the two outdoor pools, socializing in the tropical courtyard, and indulging in the hotel bar's daily happy hour. The onsite restaurant French Toast serves up hearty NOLA-inspired breakfast fare in the mornings. Fill up on sweet and savory crepes, creative breakfast sandwiches, and overstuffed omelets before heading out for the day.
---
Maison de la Luz opened in the spring of 2019 but it didn't take long for it to gain a reputation as one of the best hotels near the French Quarter. You'll find yourself swooning the moment you step inside this whimsical, art-filled boutique hotel. With black and white tiled floors, an eclectic mix of velvet chairs and sofas, and trinkets from around the world, the lobby is postcard perfect.
Not only will you be treated like royalty by the ultra-friendly staff, but you'll love all of the thoughtful extras. You can get a pot of coffee delivered to your room in the mornings, enjoy complimentary ice tea after the delicious buffet breakfast, and mingle with guests during the nightly wine, cheese, and charcuterie hour! If you're in the mood for a nightcap, the hidden bookcase door leads to the chic speakeasy Marilou.
Each of the 67 rooms and suites boasts a quirky collection of artwork, plush beds with scalloped headboards, and extra tall ceilings. The ensuites have marble soaking tubs, stylish tiled floors, and luxury bath products.
Not only is this one of the most unique boutique hotels in New Orleans, but the French Quarter is just five blocks away. Plus, the historic Lafayette Square is just down the street!
---
Soniat House is conveniently located right in the heart of the French Quarter – just two blocks from rowdy Bourbon Street – but somehow manages to be a blissfully quiet reprieve. This unique hotel is actually an 1800s home that was reimagined as a 30-room boutique hotel. To top it off, the entire hotel is adorned with amazing antiques collected by the home's original owners!
Each colorful room is completely unique and boasts classic furniture, custom beds with Frette linens, and antique decor. The modern ensuites have glass shower doors, antique nickel fixtures, and luxe Molton Brown products. Upgraded rooms and suites are outfitted with extras from fireplaces to canopy beds and beautiful living areas.
The breakfast might not be complimentary, but for $12.50 the homemade buttermilk biscuits, delicious strawberry jam, freshly squeezed orange juice, and pot of café au lait are well worth it. After spending the day strolling around the French Quarter, indulge in a mix-it-yourself cocktail or glass of wine at the hotel's honor bar. Just leave your room number and drinks will be charged to your room!
---
Tucked away in the Marigny, Hotel Peter and Paul is housed in a historic Catholic Church, schoolhouse, rectory, and convent. The entire space was meticulously renovated for four years before opening as one of the most unique hotels near the French Quarter in 2018. You'll find all sorts of references to the buildings' history, including the original signs for the church and school!
The 71 rooms are located in the former school, rectory, and convent. Because the designers wanted to keep the historical integrity of the original buildings, no two rooms are alike. Each room is impeccably decorated with European furniture, art from local artists, and interesting antiques.
Located in the old rectory, the onsite restaurant looks like it was ripped straight from a magazine. The Elysian Bar serves up creative dishes with locally sourced ingredients including hominy and ricotta gnocchi, pan-roasted gulf fish with pickled apples, and Louisiana blood oranges and roasted beets. For dessert, head into the convent where you can grab a scoop of handmade ice cream at Sundae Best!
---
Ace Hotel is the perfect pick if you're looking to let loose during your trip to NOLA. This hipster hotel is located steps from the French Quarter and a 10-minute walk from Bourbon Street, so the location can't be beat!
One of the standout features of this swanky hotel is its rooftop garden. You'll love splashing around in the pool, sipping cocktails at the bar, and snacking on small Italian bites. Being one of the first rooftop pools to open in the neighborhood, it's a popular hangout for guests and locals alike – especially during the lively weekend events.
As you would expect, the rooms are the epitome of cool. Expect comfy beds, plush leather chairs, and rich wood trimmings. You'll love the thoughtful extras like the acoustic guitar, record player, and vintage SMEG fridge filled with plenty of alcoholic beverages and Stumptown cold brew coffee.
Despite being surrounded by tons of excellent bars and restaurants, you don't actually need to leave the hotel. You can get your morning jolt with a drip coffee at Lovage, slurp fresh sustainably harvested oysters at Seaworthy, or enjoy creole-inspired Italian fare at Josephine Estelle!
---
If you're looking for one of the coolest boutique hotels near the French Quarter, you can't go wrong with MOXY. This hotel was tailor-made for anyone looking to let loose during their trip to the Big Easy. The chic lobby bar is open 24/7 so you can keep the party going until the wee hours or nurse that hangover with a handcrafted bloody mary.
In true MOXY fashion, you'll find vibrant, Insta-worthy decor around every corner. You'll love the quirky rooms which boast platform beds with oversized leather headboards, midcentury modern decor, and vintage accents. You can keep up with your favorite Netflix shows with the smart TV, get ready for a night on the town with the spacious vanity, or chat over in-room cocktails in the funky basket chairs.
Stop by the MOXY Breakfast Bar for fresh bagels or delicious breakfast naans. There's also a grab-and-go bar in case you want to pick up some light bites for an adventure-filled day or are just craving a midnight snack. Located on the edge of the French Quarter, you're just steps away from the raw oysters at Bourbon House, the Vietnamese style crawfish boils at Palm&Pine, and the barbecue chicken confit po' boys at Killer PoBoys.
---
The 18th-century creole Audubon Cottages might be a block from rowdy Bourbon Street but you'll feel like you're in your own private oasis. Step into this slice of paradise and you'll be greeted by your own private butler who's there to assist you with anything during your stay! Expect top-notch service 24/7 and all sorts of insider tips on what to eat, see, and do in New Orleans.
The seven historic cottages are situated around a lush courtyard, which boasts the original red brick patio and a saltwater pool. A lovely breakfast is served in the pool house every morning or you can ask your butler to deliver it to your room or your courtyard for alfresco dining. Whipped up by your butler, breakfast includes pancakes, eggs, pastries, and fresh juice and coffee.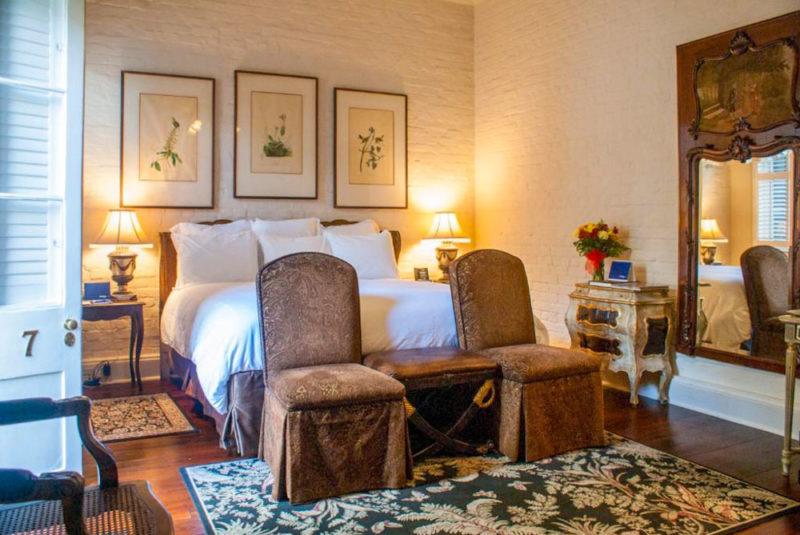 Each cottage is unique but they were all thoughtfully renovated to retain their historic charm and offer guests the feeling of a private French Quarter home. The one and two-bedroom cottages are chock full of homey décor, luxurious amenities, and rustic accents.
With its spacious private courtyard and tranquil fountain, Cottage Three was frequented by Elizabeth Taylor back in the day. And if you're looking for a truly unique experience, Cottage Four is rumored to be haunted by a music-playing soldier!
---
The Hotel Mazarin is yet another architectural gem located just steps away from Bourbon Street. With its gorgeous canary yellow facade and arched doorways, this Spanish-style building is hard to miss. It also happens to be one of the best boutique hotels in the French Quarter!
The complimentary buffet breakfast is reason enough to book a night at this incredible hotel. You can choose from a generous selection of egg dishes, sausage and bacon, freshly baked pastries, and fruit. Plus, you can dine alfresco in the picture-perfect courtyard.
The Mazarin connects to one of the city's best wine bars where you can sip wine and graze on cheese and charcuterie plates. The hotel also boasts a Prohibition-themed bar called 21st Amendment. After a long day on the town, enjoy a well-earned New Orleans-themed craft cocktail or two!
The rooms are the perfect place to unwind and get a good night's sleep on the plush pillow-top beds. You'll love the luxurious features from the crystal chandelier to the black porcelain floors and the walk-in rain shower. Upgrade to a premium room and you'll have a private wrought-iron balcony where you can sip your morning coffee and watch the world go by.
---
Located just outside of the French Quarter, Loft 523 is definitely the cool kid in town. This boutique hotel is set in a restored warehouse so expect industrial-chic decor and contemporary furniture throughout.
You can choose from four different lofts, which all feature polished concrete floors, stylish Mondo beds, and artistic accents including original paintings and hip Fortuny lamps.
If you're in town for a bachelorette party or a girls' getaway, the 700-square-foot penthouses are well worth the upgrade for their 600-square-foot private terraces with ponds, fountains, and city views! You'll also love luxuriating in the huge bathrooms with Agape "spoon" baths, walk-in glass showers, and luxe Aveda products.
With only 16 lofts and an unmarked location, Loft 523 feels less like a hotel and more like a trendy serviced apartment complex. While there is an onsite bar, you'll be directed to the adjacent International House Hotel if you want to use the gym or business center. There is no hotel restaurant but the French Quarter is just a few blocks away so you'll be spoiled for choice!
---
If you're looking for a unique place to stay in the heart of New Orleans, The Saint Hotel is one of the best boutique hotels in the French Quarter. The entire hotel has a "good" versus "evil" theme. You can dine on Angel Fried Grit Cakes and Celestial Shrimp and Grits at the white heaven-like Tempt restaurant or sip sinful cocktails at the red, black, and white Burgundy Bar.
The unique theme extends to the over-the-top rooms. Standard rooms are outfitted in bright white and blue tones, contemporary furniture, angelic paintings, and white marble baths. But if you're looking for something a little more sinister, it's well worth upgrading to a suite.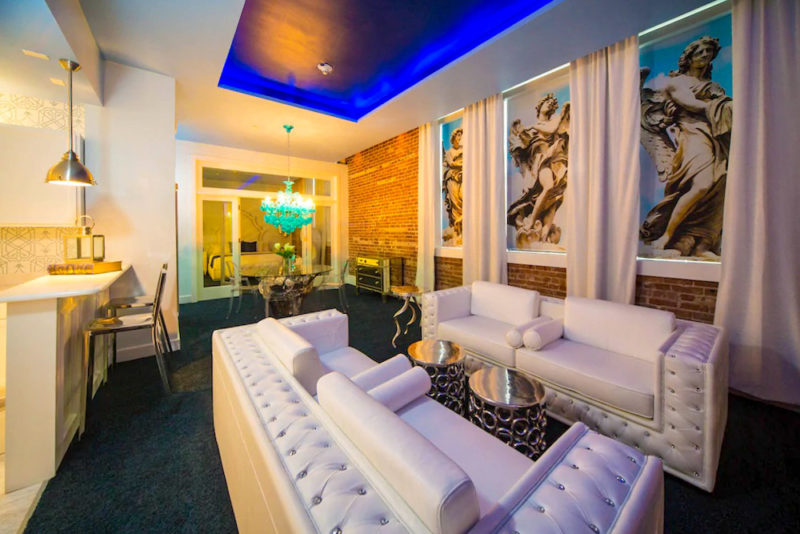 If you opt for one of the "evil" suits, you'll get Insta-worthy decor like deep red carpeting, red velvet curtains, provocative black and white photographs, and lavish black marble ensuites with clawfoot tubs. One suite even has a stage and dance pole!
Bourbon Street is just a four-minute walk (or stumble) away. If you want to go bar hopping around Bourbon Street be sure to stop off at Channing Tatum's bar Saints and Sinners, the historic Lafitte's Blacksmith Shop, and the iconic Carousel Bar & Lounge.
---
The refreshingly modern Hotel Le Marais is hands down one of the best boutique hotels in the French Quarter. Tucked away a half block from the mayhem of Bourbon Street, this place somehow manages to be blissfully quiet while being right in the heart of the action. With its central location and hip decor, Hotel Le Marais is popular among the young and hip crowd.
Each of the 66 rooms boasts chic decor, ergonomic workstations, and marble baths with luxury body products. After a day adventuring around New Orleans wrap yourself in the waffle bathrobe, snuggle up on the pillowtop bed, and have a relaxing night of Netflix.
In the mornings, you can brew a cup of coffee with the in-room coffee maker, head out to your mini-balcony, and check out the hustle and bustle on Conti Street below. The hotel also serves up one of the best (and most filling) complimentary continental breakfasts in town, which is an added perk.
Before heading out for the night you can do laps in the heated outdoor saltwater pool, sip happy hour cocktails at the hotel bar Vive!, and socialize in the lush courtyard. Whether you want to spend the night drinking or dining all of the French Quarter's best bars and restaurants are just steps away!
That's it -12 of the best French Quarter hotels! Did we miss any cool boutique hotels in the French Quarter? Comment below so we can add them to the list!
---
Didn't find the perfect French Quarter hotel? Try searching here:
---
Planning a trip to New Orleans? Check out our favorite books and travel guides!
---
SHARE THIS ON PINTEREST
---
---