Nestled in the shadow of the Great Smoky Mountains, Gatlinburg, Tennessee, draws about 12 million visitors every year. And it's easy to see why. Built along the Little Pigeon River, this picturesque town sits right at the entrance to the Great Smoky Mountains National Park – the most visited national park in America!
People come to Gatlinburg to see the majesty of the mountains, make their way along the hundreds of miles of hiking trails, and see diverse types of wildlife up close. But they also come for the many downtown attractions.
Gatlinburg is home to unique restaurants, breweries, specialty shops, and one-of-a-kind attractions like Ripley's Aquarium of the Smokies, the Gatlinburg Space Needle, the Gatlinburg Sky Lift, the Guinness World Records Museum, and much more.
It's a top destination for families, those with a love of the outdoors, and couples planning romantic getaways. Gatlinburg honestly has something for everyone!
And with so much to see and do, you'll want to stay as close to the action as possible. Luckily, Gatlinburg is brimming with rustic cabins, amenity-filled resorts, and modern mountain lodges. So many, in fact, that you might have a hard time choosing the perfect one. That's why we've compiled a list of the 12 best hotels in Gatlinburg to help you as you plan your trip.
Where to Stay in Gatlinburg
Choosing where to stay in Gatlinburg can be tricky because some accommodation options can be a bit removed from downtown. So, it's a good idea to go into your hotel hunt having a bit of information about the lay of the land.
It's no surprise that some of the best hotels in Gatlinburg are clustered around the ultra-popular downtown area. This is where you'll find the majority of the city's best family-friendly attractions, including the Gatlinburg Space Needle, Ripley's Aquarium of the Smokies, and Gatlinburg Sky Lift.
You'll be able to walk to a wide range of buzzing bars and restaurants. Plus, the Great Smoky Mountains National Park is just a mile from downtown.
If you prefer to be away from the hustle and bustle of downtown, Ober Gatlinburg is tucked away 4 miles to the west of town. This area is a popular ski resort in the winter and offers a beautiful setting in the summer months.
If you prefer to be as close to the Great Smoky Mountains National Park as possible, you'll find plenty of rustic lodges and modern hotels sprinkled around the outskirts of the park.
---
The 12 Best Hotels in Gatlinburg
Built right on the Little Pigeon River, this unique Gatlinburg hotel was designed to give you the feeling of a home away from home. Here, you can revel in the calming sounds of nature and the babbling river from the comfort of your private balcony. If that's not enough, it's hard to believe you're within walking distance of Gatlinburg's major downtown attractions, shops, and restaurants.
Owned by the same family for over 50 years, Greystone has gorgeous guest rooms and suites, all decorated with cozy furniture and vintage pictures from the 1900s. And while the rooms give you a feel of days gone by, there are modern amenities as well.
Every room has a flat-screen TV and free Wi-Fi. If you need something, just head to the 24-hour front desk to ask, and when you wake up in the morning, you'll find buffet-style and American breakfast options ready and waiting. And if you get hungry or thirsty later, there are vending machines stocked full of drinks and snacks for your use.
---
If you want your mountain getaway to have a luxurious feel, Margaritaville Resort Gatlinburg is one of the coolest Gatlinburg hotels. In fact, this resort is so special it was ranked "No. 1 New Resort" by USA Today after opening in March of 2018.
It offers its own tropical brand of laid-back luxury with spacious and airy island-themed rooms. There's also an indoor pool and hot tub, an expansive outdoor pool with a double loop waterslide and children's splash pad, and Margaritaville's very own St. Somewhere Spa. If you really want to treat yourself during your stay, consider a high-end spa day!
With its central location in the heart of downtown, you have easy access to local attractions, as well as the nearby park. You can start your day with a stop at Joe Merchant's Coffee and Provisions before heading out to see the sights or going off on your own mountain adventure.
Later on, be sure to visit the License to Chill Bar for a margarita or a frozen boat drink or head over to the Landshark Bar & Grill for dinner. Here, you can enjoy great American beach food and your favorite brews in a dining room that overlooks the river.
---
The Appalachian Lodge (or Appy Lodge) is the perfect place to stay if you want a rustic feel that reflects the history of the area. Close to downtown attractions, this unique Gatlinburg hotel is owned by an eighth-generation Tennessee family that strives to welcome and host guests while honoring the history of the famous Appalachian Trail (which stretches all the way from Georgia to Maine).
Every room has hardwood floors and hickory furniture and bears the name of one of the many shelters along the famous trail. You will see décor throughout the property that highlights the trail, so much so that the owner describes it as "part hotel/part museum."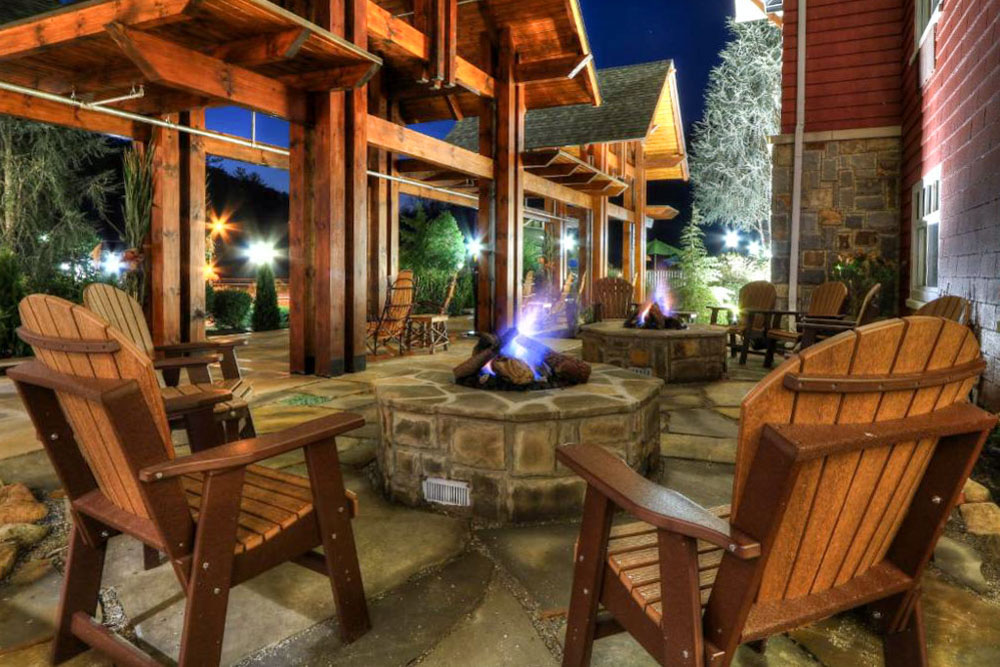 And while the rooms offer a bit of history, you will get modern touches, too. Each room has a flat-screen TV, a Keurig coffee maker, a refrigerator, and a microwave. Some also have fireplaces and whirlpools.
The lodge also has an indoor/outdoor pool, offers free parking, and provides a grab-and-go breakfast so you can fuel up for an adventure-filled day.
---
With a welcoming vibe, 54 rustic rooms, and private balconies with a spectacular view of either the mountains or the river, Old Creek Lodge is easily one of the best hotels in Gatlinburg.
Located just outside the entrance of the Great Smoky Mountains National Park (but not far from downtown), there's a sense of tranquility here that makes you feel like you really are "away from it all."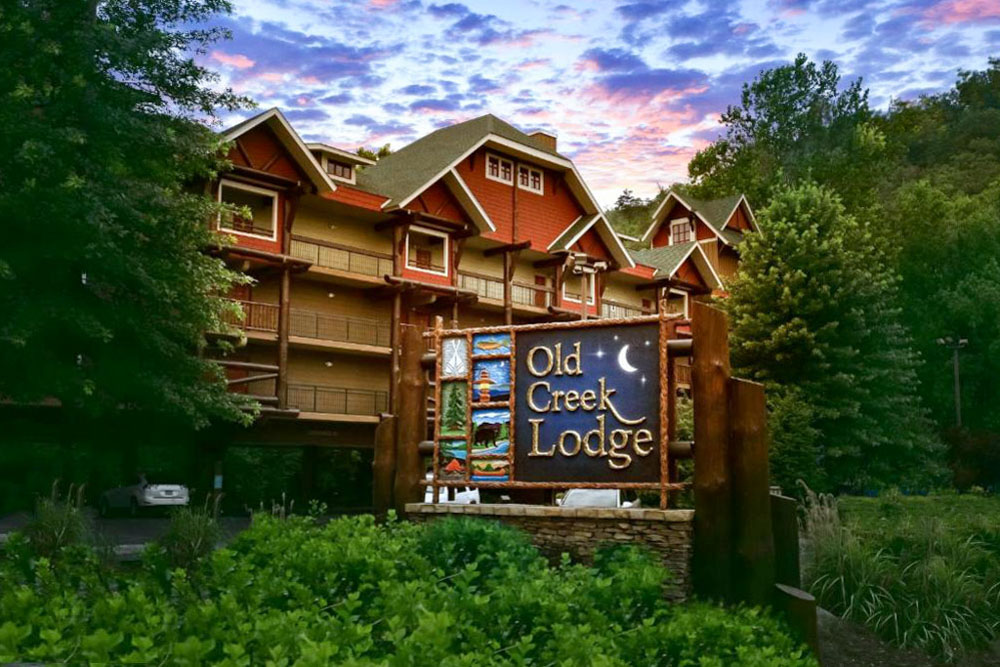 The lodge, which opened in 2011, has a quaint lobby and open, spacious rooms with hickory furniture and extremely comfortable beds. Every room also has a microwave, mini-refrigerator, coffeemaker, and stonewall fireplace.
You will also get free Wi-Fi, a complimentary continental breakfast, and there's a heated outdoor pool on the property perfect for soaking your aching muscles after a day spent hiking. Plus, you are close to downtown Gatlinburg and just 10 minutes away from Dollywood in nearby Pigeon Forge.
---
The Park Vista is a little farther away from downtown than others on this list. In fact, it actually sits 1,000 feet "above" Gatlinburg. And, as you might imagine, the view from up there is spectacular!
At Park Vista, you can look down and see majestic and sweeping views of both Gatlinburg and the Smoky Mountains. And while it offers a perspective like no other, you are actually only 15 minutes from the national park and just a short trolley ride to the heart of downtown and all of the attractions.
The hotel has beautiful rooms, each with a balcony, a 42-inch flat-screen HDTV with premium cable channels, a mini-refrigerator, and a coffee maker.
Whether you are here for business or pleasure, you'll have everything you need with a 24-hour front desk, a conference space, ballroom, on-site fitness center, carpeted children's pool, 24-hour snack shop, and laundry facilities.
You can dine in for breakfast, lunch, or dinner at the on-site restaurant called Vista Grill. And you can also enjoy drinks and appetizers at Firefly's Patio Lounge.
---
If you are excited about spending a lot of time hiking in the Smokies, Hilton Garden Inn is one of the coolest Gatlinburg hotels because it's just half a mile from the entrance to the park. And while it might be the close proximity to the Smoky Mountains that steered you here to start with, you will find many other reasons that will make you want to stay.
You can choose from a wide selection of rooms or suites, each spacious and open and all featuring 32-inch flat-screen TVs, microwaves, and mini-refrigerators. Some rooms also have whirlpool tubs and fireplaces. Plus, pet-friendly rooms are also available in case you want to bring your furry friend along for the ride!
When you're not out adventuring around the Smokies, you can splash around in the indoor saltwater pool, work out in the fully outfitted fitness center, or warm up around the outdoor fire pits. Once you work up an appetite, head over to the hotel's Great American Grill for breakfast, lunch, or dinner.
---
If you're looking for places to stay in Gatlinburg that are right downtown, Smoky Mountain Resort might just be the perfect pick! Not only is the Great Smoky Mountains National Park just a stone's throw away, but you'll be within easy reach of all sorts of fun attractions.
Here, you will find spacious accommodations with all of the comforts of home – and then some! Perfect for families or groups, the apartment-style units come with one to three bedrooms and boast fully equipped kitchens with stoves, TVs with DVD players in every room, complimentary high-speed internet, and more.
There's also quite a bit to do outside the room. You might want to check out the Splash Hollow indoor water park area. Kids, especially, seem to love the waterslides! Enjoy the gathering room with the big screen TVs and video games. You can also sign up to go on guided tours or attend one of the scheduled on-site arts and crafts events.
And if you're not a member, that's OK. Packages are available for members as well as non-members.
---
The name alone paints a picture of what to expect as you enter the Bearskin Lodge on the River. That stays with you, too, whether you choose a room with a balcony that looks out on a mountain stream or a suite that gives you a clear, picturesque view of downtown Gatlinburg. Either way, you will feel right at home here in the mountains!
Not far from attractions like Ripley's Aquarium, the Ober Gatlinburg Aerial Tram, and the Smoky Mountain Brewery, the lodge has been a Gatlinburg favorite since it opened in 2000. The rooms are open, airy, and clean, and the staff is warm, welcoming, and friendly. Plus, the natural surroundings are nothing short of spectacular.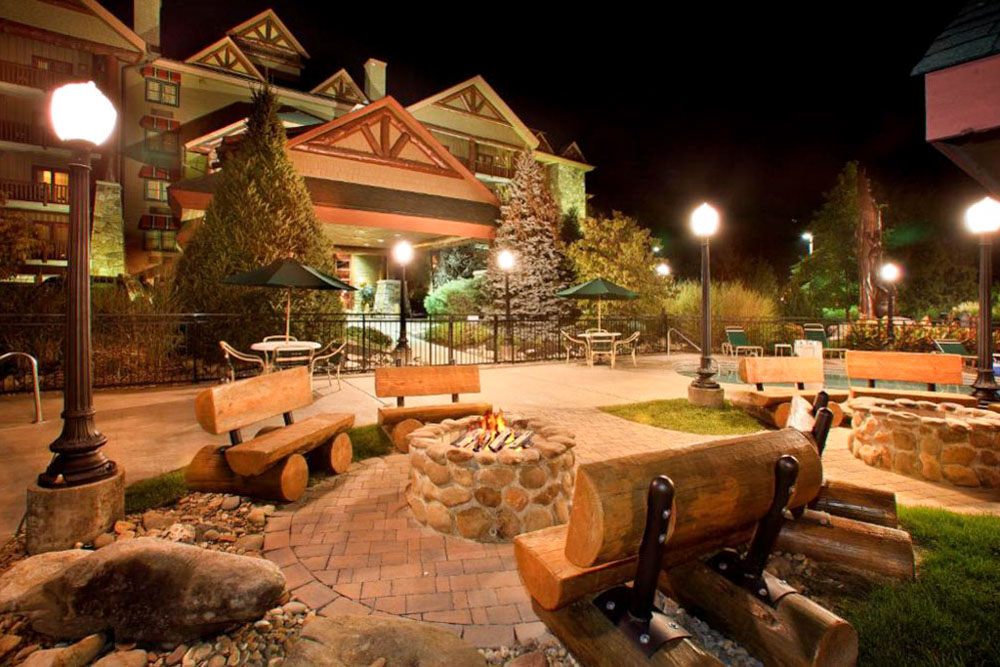 All rooms have custom hickory furnishings, a balcony, flat-screen TV with cable, a mini-refrigerator, microwave, and coffee maker. And guests get a complimentary continental breakfast every morning, perfect for filling up before a hike. When you're not relaxing in your room, there's also an outdoor pool, lazy river, outdoor fire pits, and a fitness room.
---
Whether you're traveling as a family or flying solo, this rustic mountain lodge offers both rooms and cabins. Plus, you'll be within walking distance from downtown and just a short drive from the Great Smoky Mountains National Park.
Rooms feature contemporary furniture and come with a flat-screen TV, refrigerator, and coffee machine. Depending on which type of room you choose, some have balconies, hot tubs, or fireplaces. Perfect for a group, cabins are separate and have multiple rooms. Rooms and cabins at Sidney James Mountain Lodge are also pet-friendly if you're planning to travel with your pups.
The lodge has an indoor and outdoor pool, along with a Poolside Café that offers breakfast, lunch, and dinner. There are also barbecue facilities on-site and picnic areas nearby in case you feel like enjoying a barbecue meal with your crew.
There's also free parking, free Wi-Fi, and trolley stops at the entrance to the lodge.
---
If you're searching for the best Gatlinburg hotels, look no further than the Gatlinburg Mountain Inn. This 4-star hotel offers wonderful accommodations, beautiful mountain views, and is just a short walk from downtown Gatlinburg. Plus, the ultra-friendly staff will go above and beyond to make sure you have everything you need for a comfortable stay.
Every sundrenched room has a balcony or porch, plush beds, a large flat-screen TV, refrigerator, and microwave. You also get free parking and free Wi-Fi. Plus, there is a 24-hour front desk and room service available.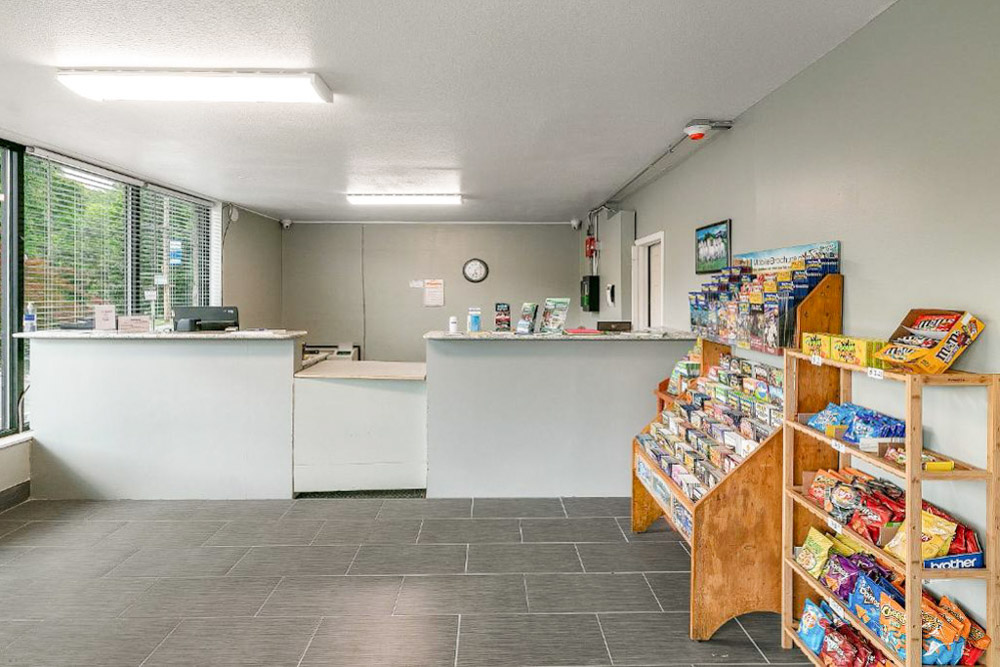 When you're not relaxing in your room, there are tons of top attractions within walking distance, including Smoky Mountain Winery, Ripley's Aquarium of the Smokies, and the Guinness World of Record Museum. While the hotel does not have a restaurant, Pizzeria of Gatlinburg, Flapjack's Pancake Cabin, and Geno's Pizza are all just steps away.
---
One of the coolest Gatlinburg hotels, this one welcomes you with a cascading three-story waterfall as you enter the premises of this resort-style hotel. Plus, you can expect a warm show of Southern hospitality from the friendly hotel staff.
Within just a mile of the entrance to the Great Smoky Mountains National Park and minutes away from downtown Gatlinburg, the location can't be beat. With so many great amenities, you'll find it tough to tear yourself from the beautiful resort, but if you want to go out, all of the shops, restaurants, and entertainment of downtown Gatlinburg are a short stroll away.
Even the standard rooms are open and spacious and boast plush beds, a microwave, cable TV, and a DVD player. Some also have private balconies. If you're traveling as a family or just want more space, it's well worth upgrading to one of the spacious suites. Not only will you have separate bedrooms, but the fully outfitted kitchen has everything you need to prepare delicious meals at home.
As a guest, you have access to both an indoor and outdoor pool, a hot tub, fitness center, basketball courts, creekside barbecue stations, and concierge services.
---
Guests who stay at Country Inn & Suites by Radisson love the location as well as the hotel itself. You're just a mile from the Great Smoky Mountains National Park and just steps away from all of downtown's main attractions and restaurants. Plus, this place has everything you need to feel right at home!
When you're not out on the town, you can go for a swim in the heated indoor pool, keep up with your workout routine in the fitness center, or catch up on work in the 24-hour business center. Be sure to take advantage of all of the thoughtful freebies, including parking, Wi-Fi, cookies and coffee in the lobby, weekday newspapers, and daily hot breakfasts with a DIY waffle station.
The stylish rooms are open and airy, decorated in a cool, chic design featuring black, white, and beige color schemes. All rooms have comfy beds, designated workstations, and modern ensuites. Plus, you'll love the handy microwaves, refrigerators, and coffee makers.
That completes our list of the 12 best hotels in Gatlinburg. Did we miss any cool hotels in Gatlinburg? Comment below so we can add them to our list!
---
Didn't find the perfect Gatlinburg hotel? Try searching here:
---
Planning a trip to Tennessee? Check out our favorite books and travel guides!
---
SHARE THIS ON PINTEREST
---