Set right in the heart of Arkansas, Little Rock offers endless things to do. First off, it's located right on the banks of the Arkansas River. So, in addition to having beautiful river views from (almost) every angle, the city offers scenic kayaking and paddleboarding activities and dozens of riverside hiking and biking trails.
You can easily spend days shopping in the bustling Riverside Market District, hunting down street art in the trendy SoMa neighborhood, perusing hundreds of purses at the eclectic ESSE Purse Museum, and hiking to the top of nearby Pinnacle Mountain. Whatever you're into, you'll find plenty to keep you entertained in Little Rock!
At the end of a long day, treat yourself to award-winning spirits at Rock Town Distillery or local craft brews at Lost Forty Brewing before dining at one of Little Rock's many downhome Southern restaurants, innovative farm-to-table bistros, and diverse international eateries. No matter what you're craving, you'll find it in Arkansas' capital city.
With so many cool things to see, do, and eat, you might not know where to begin. So we've compiled our list of the absolute best things to do in Little Rock for you. Stick to these fun and unique Little Rock bucket list recommendations, and there's no doubt you'll have an amazing time exploring this incredible Southern city!
Disclaimer: This post may contain affiliate links. If you make a purchase or booking through one of our links we may earn a small commission (don't worry, it's at no extra cost to you).
---
15 Fun and Unique Things to Do in Little Rock, AR
1. Shop, Wine & Dine in River Market District
If there's one thing that needs to be on your Little Rock bucket list, it's a visit to the vibrant River Market District. This is the beating heart of Little Rock, where you'll find some of the city's best shops, bars, and restaurants, as well as a range of museums, green spaces, and pop-up events.
You can easily while away an afternoon strolling around Riverfront Park, checking out art in Vogel Schwartz Sculpture Garden, and dining in the Ottenheimer Market Hall. This is also a great jumping-off point for the Arkansas River Trail if you want to go hiking or biking.
From film screenings, food festivals, and world-class concerts, there are always fun events going on in this part of town, too. If you happen to be in Little Rock in September, be sure to enjoy live music at the Jazz in the Park concert series. Or, drop by on a Saturday, and you can shop for local goods at the riverside farmers' market.
---
2. Kayak Along the Arkansas River
Little Rock is an excellent destination for anyone who loves to get outside, and if you're looking for outdoorsy things to do in Little Rock, there's nothing quite like paddling down the Arkansas River in a kayak!
You can rent kayaks from Rock Town River Outfitters and paddle around nearby Two Rivers Park and River Mountain Park on your own. But for an extra-special experience, book a Sunset Kayak Tour along the Arkansas River.
You'll set off from Rockwater Marina about one hour before sunset. During the 2-hour excursion, your adventure guide will pepper you with all sorts of interesting facts about the Arkansas River and enlighten you with historical tidbits about Arkansas' capital city. But the best part about this tour is watching the sun sink over West Little Rock from this unique and beautiful vantage point.
---
3. Admire Art at the Vogel Schwartz Sculpture Garden
Located in Riverfront Park, Vogel Schwartz Sculpture Garden is easily one of the most unique Little Rock attractions. Take some time to explore the area, and you'll find all sorts of eccentric sculptures tucked away in Riverfront Park's beautiful gardens.
The project started with four works of art in 2004 and has now expanded to a whopping 90 incredible sculptures! Many of these sculptures arrived in Vogel Schwartz Sculpture Garden thanks to Little Rock's annual Sculpture in the River Market event.
During this event, some of the best sculptors in the US show off their skills and compete for a coveted spot in Vogel Schwartz Sculpture Garden. A committee then hand selects the best of the best to add to the sculpture garden. Thanks to this handy map, it's totally possible to explore Vogel Schwartz Sculpture Garden on your own while learning all about the meaning of each work!
---
4. Eat Your Way Through Ottenheimer Market Hall
With so many incredible food options, you'll never go hungry in Little Rock. But if you're struggling to agree on where to eat, the Ottenheimer Market Hall has something for everyone in your crew!
Located right in the heart of the River Market District, this fun food hall hosts a refreshingly diverse selection of cuisines and food concepts. If you're interested in trying something with an Asian flair, you can sample spicy green curries at Bangkok Thai Cuisine, sushi and gyoza dumplings at Big on Tokyo, or Indian dishes at Indian Feast.
For American-style fare, you can also grab slices of specialty pizza at Jay's Pizza or indulge with some seriously good brisket and pulled pork at Platnum BBQ. Or, if you're on the go, stop by the on-site Garden Square Café & Grocery for grab-n-go drinks, snacks, smoothies, and vegetarian foods!
To avoid disappointment, do note that the Ottenheimer Market Hall is open from 10 am to 2 pm Monday through Saturday and is closed on Sundays.
---
5. Peruse the ESSE Purse Museum
If you're looking for unique things to do in Little Rock, then you'll love exploring the ESSE Purse Museum (one of only two purse museums in the world!). While ESSE is curated around founder Anita Davis' vast collection of purses, this museum also offers a sophisticated commentary on the history and progression of American women in the 20th century.
Davis believed that a purse is more than just utilitarian – it actually embodies the "essence" of its owner. In that regard, the museum displays Davis' diverse selection of purses and their contents to show the evolution of fashion, femininity, and women in the workplace.
Don't miss out on the permanent exhibit, "What's Inside: A Century of Women and Handbags 1900-1999." You can also expect to find a range of interesting temporary exhibits during your visit. Be sure to stop off at the cool museum store, where you can purchase handbags from around the world, as well as other interesting odds and ends.
---
6. Go Biking along the Arkansas River Trail
Taking an epic bike ride along the Arkansas River Trail is one of the best things to do in Little Rock when the weather is nice. The original loop trail extends for 16 miles and takes you to some of Little Rock's top attractions.
One of the coolest things about the Arkansas River Trail is that you'll see some of the city's iconic bridges along the way, including the Clinton Presidential Park Bridge, Rock Island Railroad Bridge, Big Dam Bridge, and even the Two Rivers Park Bridge if you bike long enough.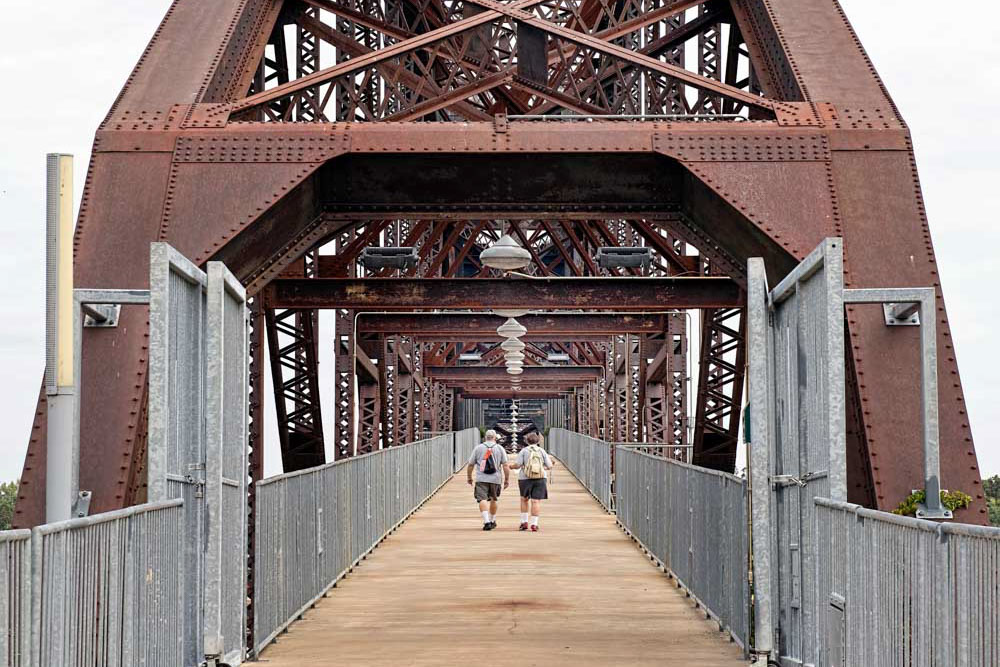 The trail will also lead you to top sights like Riverfront Park, the Clinton Presidential Center, the Vogel Schwartz Sculpture Garden, and the Arkansas Inland Maritime Museum, as well as Murray Park, Cooks Landing Park, and Burns Park. If you want to extend your journey, you can pedal all the way to Two Rivers Park and go hiking around Pinnacle Mountain!
---
7. Check Out all of the Street Art Murals
Little Rock has a surprisingly cool art scene, so don't be surprised if you spot all sorts of incredible murals gracing the city's buildings, walls, doors, and drains. If you're looking for free things to do in Little Rock, taking a self-guided street art tour by foot or bike is always a fun idea!
You'll find a bunch of works in the hip South Main Street (aka SoMa) area, including the famous SoMa mural on the side of Rock Town Distillery and Woman with Dog, which is just across from the ESSE Purse Museum.
Head across the highway to downtown Little Rock, and you'll find tons of cool art adorning Baker's Alley, as well as the 900-square-foot Migration mural, Mr. Rogers 143, the quirky Robot, and so, so much more! Head over to 7th Street, and you'll find a bunch of political murals, too!
---
8. Visit the William Clinton Presidential Library and Museum
When it comes to must-do things in Little Rock, a visit to the William J. Clinton Presidential Center & Park should be high on your list. The site is located right on the Arkansas River – so it's super convenient to reach.
Here you'll find the William Clinton Presidential Library and Museum, which houses an incredibly detailed replica of the Oval Office and the Cabinet Room, complete with artifacts from Clinton's time in office. Peruse the museum, and you'll also find countless documents, photographs, personal belongings, and more detailing the life, legacy, and presidency of the 42nd president of the United States.
You should also take some time to explore outside of the museum, where you'll find sculptures, fountains, and the beautiful Clinton Presidential Park Bridge. If you're feeling peckish, stop by 42 Bar and Table for a leisurely lunch with beautiful views of the Arkansas River and the Clinton Presidential Park Bridge.
---
9. Enjoy a Tipple at Rock Town Distillery
If you're looking for boozy things to do in Little Rock, you really can't go wrong with Rock Town Distillery. A favorite among locals and visitors alike, this cool distillery has churned out quite a few award-winning whiskeys and gins and serves some seriously good drinks.
The bartenders mix up all sorts of classic and creative cocktails that are almost too beautiful to drink. Depending on what you're in the mood for, you can choose from the citrusy Fast Times at Ridgemont Hi-Biscus, the lavender-infused Purple Rain topped with purple rock candy, or the rye-based Dead Poet's Society.
For something truly unique (and Insta-worthy), go for The Breakfast Club, which is mixed with vodka, Trix infused bourbon cream, and coffee liqueur, all topped with infused Trix cereal!
If you've got the time, it's well worth signing up for one of the 30-minute guided distillery tours or improving your skills with a cocktail class.
---
10. Hike to the Top of Pinnacle Mountain
If you want to stretch your legs and get outside, going hiking in Pinnacle Mountain State Park is one of the coolest things to do in Little Rock. This beautiful part of Arkansas is located an easy 20-minute drive from downtown Little Rock, but you'll feel like you're in an entirely different world.
Explore this 2,356-acre park, and you'll find 22 miles of scenic hiking trails and 14 miles of mountain bike trails. If you want to reach the top of Pinnacle Mountain, head over to the West Summit Trail. This 1.5-mile trail is strenuous and takes about 90 minutes round-trip, but you'll be rewarded with panoramic views of Lake Maumelle, the Arkansas River Valley, the Ouachita Mountains, and Little Rock.
There are a range of other trails to choose from if you're looking for something more leisurely. If you're traveling to Little Rock in the fall, try to time your visit so you can take in the beautiful fall foliage views from the top of Pinnacle Mountain!
---
11. Photograph Picture-Perfect Old Mill
If you're on a quest for a picturesque picnic spot, it doesn't really get any better than the Old Mill. This idyllic Little Rock attraction was made famous by the film Gone with the Wind. This dreamy location was featured in the opening scenes of the movie – so don't be surprised if you feel like you've seen this place before!
Officially known as Pugh's Mill, you'll find the Old Mill in T. R. Pugh Memorial Park, just 15 miles from the heart of town. The fairytale-like building was built in 1933 but was designed to look like it was an 1880s water-powered grist mill. It's now listed on the National Register of Historic Places, so you know it's something special.
Don't forget to bring your camera because you'll definitely want to try your best to capture this beautiful scene. If you plan ahead, this is also a prime spot to enjoy a picture-perfect picnic lunch!
---
12. Explore the Vibrant Argenta Arts District
If you find yourself across the river in North Little Rock, pay a visit to the Argenta Arts District. This hip part of town is brimming with excellent art galleries, restaurants, and museums. Plus, there are always fun pop-up events happening in this artsy part of Little Rock.
During the warmer months, don't miss out on the 3rd Friday Night Art Walks. Or, if you happen to be in town on the second weekend of the month, there's the Dogtown Throwdown event, which sees closed streets, outdoor dining, and plenty of live entertainment. And then there's the Argenta Farmers Market, the Argenta Vibe Music Festival, and the minor league baseball games at Dickey-Stephens Park!
You can also catch comedy shows at The Joint, get tickets to a world-class concert at Simmons Bank Arena, sip wine at Crush Wine Bar, or sample local craft beers at Flyway Brewing. Plus, once you work up an appetite, you'll find some of Little Rock's best restaurants in this happening part of town.
---
13. See Historic Homes in the Quapaw Quarter District
History buffs will want to add Quapaw Quarter District to their list of must-see Little Rock attractions. The 9-square-mile area is comprised of 15 different National Historic Register districts and is home to 200 homes and buildings, all listed on the National Register of Historic Places!
Go to the Governor's Mansion District, and you'll find the Arkansas Governor's Mansion, which was featured in the show Designing Women as the home of Suzanne Sugarbaker. After that, head over to the South Main Residential Historic District, where you'll find tons of Queen Anne, Craftsman, and Colonial Revival-style homes and buildings.
No matter which of the 15 National Historic Register districts you choose to explore, you'll find informative placards outside the structures highlighting their historical significance.
---
14. Cheer on the Arkansas Travelers Minor League Baseball Team
If you're looking for fun things to do in Little Rock and you're a fan of sports, go see the Arkansas Travelers minor league baseball team play! The Travelers play at Dickey-Stephens Park, which is set right on the Arkansas River in North Little Rock. Even if you're not a huge baseball fan, the unique setting of this stadium and its 20th-century train depot design is sure to win you over.
You can catch games in the summer months – from June to September. When you're not cheering on the Travs, you'll find endless entertainment with the themed nights, giveaways, and promotions. There's also an on-site beer garden and baseball museum.
Dickey-Stephens Park is brimming with awesome food vendors, too. From hamburgers to popcorn, expect all of your baseball favorites, but Dickey-Stephens Park has some seriously creative food stands to choose from. Think Bacon Hot Dogs at the Travelers Bacon Station or Deep-Fried Oreos at the Slush Puppies Stand.
---
15. Cruise around Town on an Old-Timey Streetcar
Riding the city's adorable Metro Streetcar is easily one of the most unique things to do in Little Rock – and one of the most fun! This heritage streetcar runs 3.4 miles through the heart of downtown Little Rock, across the Arkansas River, and up to North Little Rock. So not only is this a fun attraction, but it's a super convenient way of getting around town.
Horsecars and later steam-powered and electric streetcars were a popular mode of transportation in Little Rock in the late 1800s. To pay tribute to Little Rock's historic streetcars, what is now known as the Metro Streetcar debuted in 2004. This adorable streetcar was even modeled off of the original!
Today, this is a popular way for visitors to tour the city and stop off at all of the top attractions in Little Rock. With stops at places like River Market, the Clinton Library, and Argenta Arts District, this is the perfect way to tick off everything on your Little Rock bucket list!
There you have it! The 15 best things to do in Little Rock, Arkansas. What's your favorite thing to do in Little Rock?
---
Planning a trip to Arkansas? Check out our favorite books and travel guides!
---
SHARE THIS ON PINTEREST
---