Santa Fe, New Mexico, is a beautiful southwestern city famous for its diverse culture, wonderful food, and natural beauty. But its history is even more fascinating. Santa Fe was founded in 1607, making it the oldest capital city in the United States.
Throughout its existence, Santa Fe has been fought over and governed by both Native Americans and European colonizers. You'll see these influences all over the city, from the Pueblo-style architecture to the many art galleries and museums. Make sure to bring your camera, because you're going to want to take pictures of everything!
Santa Fe also has lots to offer adrenaline junkies and nature lovers. If you love to be outdoors, you'll have plenty of options for hiking, biking, skiing, and horseback riding. You can also explore the Rio Grande by whitewater rafting or kayaking. After that, the city's hot springs offer a relaxing way to end your day.
There are also plenty of things to do in Santa Fe for art and culture lovers, from festivals to theatrical performances to the Meow Wolf interactive art experience. After dark, you can dine at one of Santa Fe's many excellent restaurants or groove to live music at a bar.
Plus, the food is reason enough to visit this dynamic city. Santa Fe has some of the best New Mexican dishes you'll ever taste, including enchiladas, green chile stew, and sopapillas (fried pastries covered in honey).
With so many things to eat, see, and do, it's hard to know where to begin. So we've compiled our list of the absolute best things to do in Santa Fe for you. Stick to these fun and unique Santa Fe bucket list recommendations, and you're guaranteed to have a terrific time exploring this one-of-a-kind city.
Don't forget to check out our web story: The 15 Best Things to Do in Santa Fe, New Mexico
Disclaimer: This post may contain affiliate links. If you make a purchase or booking through one of our links we may earn a small commission (don't worry, it's at no extra cost to you).
---
15 cool and unique things to do in Santa Fe, New Mexico
1. Marvel at the Loretto Chapel's 'Miraculous Staircase'
The Loretto Chapel is one of the most beautiful buildings in Santa Fe, and its focal point is the incredible "Miraculous Staircase." This staircase, built without nails or any other type of fastener, was a complete mystery for years. Some locals even believe that it was the result of divine intervention!
The staircase is definitely worth seeing, but we recommend visiting the chapel as a whole. It's absolutely stunning, and you'll learn a lot about its history and the nuns who used to live there.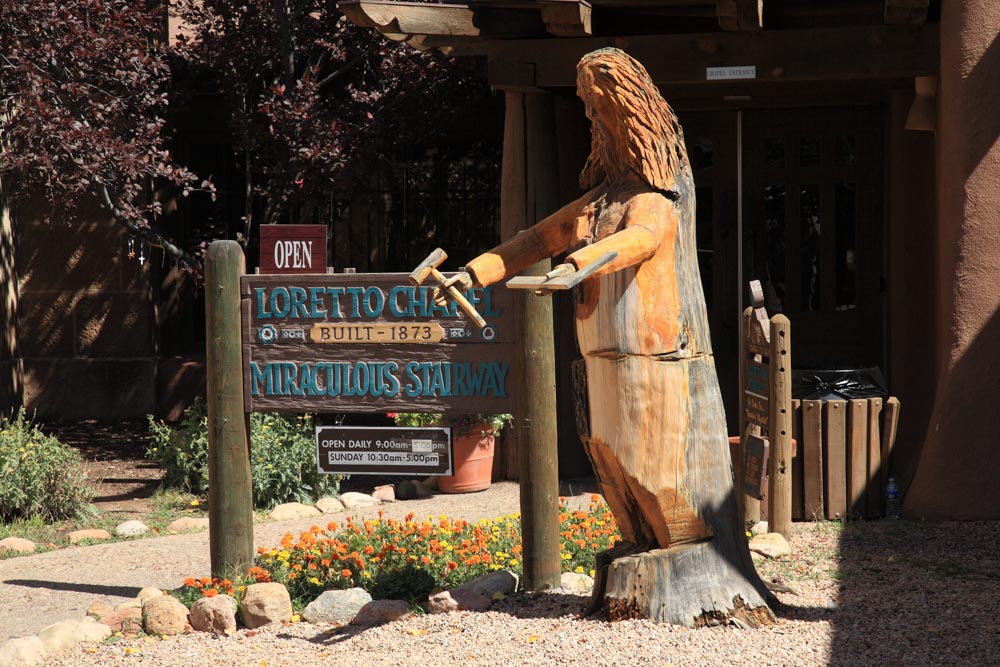 You can also climb up to the choir loft for aerial views of the city. The onsite gift shop is also worth a visit for its selection of religious items and books.
Finally, the Loretto Chapel is a popular venue for weddings and other events, so if you visit during the day, you might see people decked out in beautiful gowns and tuxedos. If you prefer a more peaceful atmosphere, we recommend visiting very early in the morning or late afternoon on a weekday.
---
2. Hang Out Like a Local at the Santa Fe Farmers' Market
For one of the most unique things to do in Santa Fe, you have to visit the Santa Fe Farmers' Market. It's the city's largest market, and it's a great place to interact with the locals.
You'll find everything here: fresh fruits and vegetables, homemade jams and jellies, even jewelry and other handcrafted goods. Don't be surprised if you spot llamas walking around!
Go hungry and grab some breakfast at one of the food stalls. You can't go wrong with a breakfast burrito loaded with eggs, cheese, and green chile!
Don't miss out on the pastries, either. The freshly-fried churros are so good dipped in chocolate, as are the sopapillas, which are similar to funnel cakes.
Make sure to stick around for the live music, as well. Santa Fe's local musicians are incredibly talented, and you'll enjoy listening to them as you browse the market. You can even request to jam with them if you're in a musical mood!
Afterward, take a stroll through the market and chat with the vendors. They're all very friendly and love to talk about their products and Santa Fe's history. If you need a pick-me-up, stop by the coffee stand and chat with the local baristas while sipping on a latte.
The market is open every Saturday from 8 am to 1 pm at Market Pavilion, but we recommend going early to beat the crowds. Bring cash because not all of the vendors accept credit cards. Parking can be tough, so we recommend taking the Santa Fe Shuttle. It's free and it'll drop you off right at the market.
---
3. Honor the Past at the Museum of Indian Arts & Culture
The Museum of Indian Arts & Culture is one of the best Santa Fe attractions. It's dedicated to preserving and celebrating Native American art and culture, and it houses an incredible collection of artifacts. This includes handwoven baskets, traditional clothing, pottery, and jewelry that were made by local tribes.
If you want to get a closer look at the collection, the museum also hosts interesting talks and workshops throughout the year. For instance, you can learn about the art of making traditional Navajo rugs, or you can find out how clay is formed into pottery.
Some of these are free, but others require a small fee, so we recommend confirming the date and price before you go.
---
4. Peruse the Museum of International Folk Art
Another must-see museum in Santa Fe is the Museum of International Folk Art. It's one of the largest museums of its kind in the world, and it's dedicated to folk art from every corner of the globe. We love walking through this museum because the artwork is marvelous!
You'll see so many awesome things here: colorful textiles from Mexico, intricate carvings from Africa, and beautiful paintings from Asia. They have some special exhibitions from time to time, such as the one on Russian matryoshka dolls.
The museum also has an excellent gift shop, so you can pick up some souvenirs for your friends and family back home. Think handcrafted chess sets, traditional woodcarvings from Peru, or intricately-woven baskets.
---
5. Dine at Santa Fe's Oldest Restaurants
One of the coolest things to do in Santa Fe is to go restaurant hopping. Santa Fe is home to restaurants as historic as the city itself!
One of our favorites is La Plazuela at La Fonda, which has been serving Santa Fe's best Mexican food since 1922. The restaurant is decorated with beautiful Spanish colonial furniture, and it also has a lovely garden where you can enjoy a peaceful meal in the shade.
Make sure to order the enchiladas. These are made from handmade tortillas, stuffed with meat or cheese, and smothered in red or green chile sauce. The chiles are locally grown, and they give the enchiladas a unique flavor that you won't find anywhere else.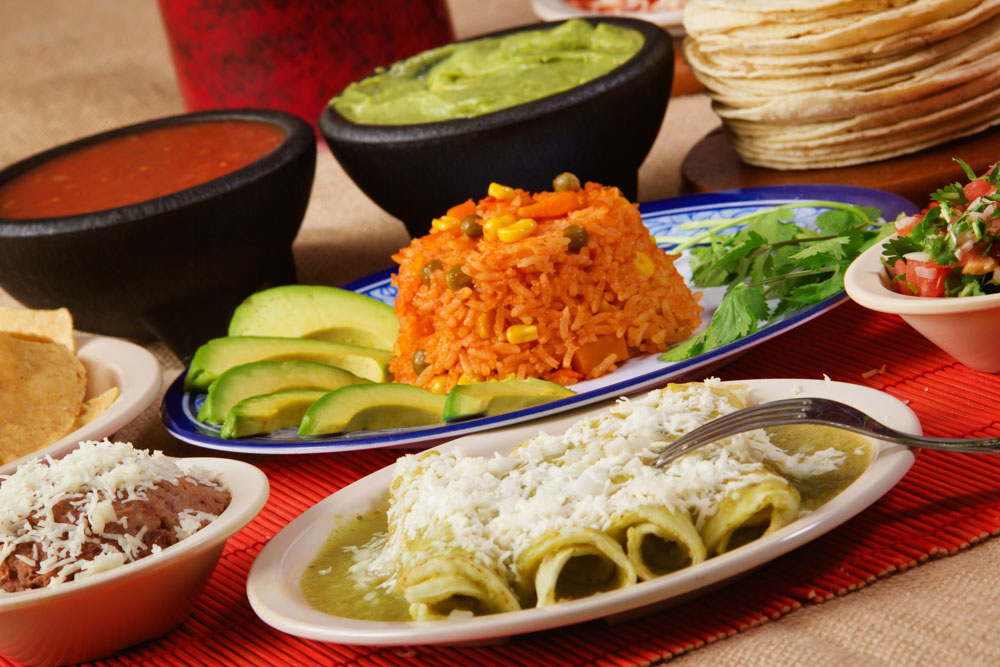 Another great option is the Coyote Cafe, which first opened its doors in 1987. The Coyote Cafe is known for its creative, Southwestern-inspired dishes, as well as its famous margaritas. Other highlights on the menu are the roasted green chile cheeseburger and the chipotle chicken pizza.
If you're looking for a truly special dining experience, we recommend a visit to the Pink Adobe. This restaurant is housed inside an old Victorian home and has been a Santa Fe favorite since 1944.
Local legends say that the restaurant is haunted – we recommend staying for dinner and seeing if you spot any ghosts! Order the prickly pear margarita and the carne adovada, which is pork marinated in a special red chile sauce.
---
6. Stroll Along the Charming Streets of Canyon Road
Remember to add the Canyon Road Arts District to your Santa Fe itinerary! This area is home to over 100 galleries, studios, and shops, so it's the perfect place to find souvenirs and gifts.
Canyon Road is also one of the most charming streets in Santa Fe. It's lined with beautiful adobe buildings, and the whole area has a very quaint, small-town feel.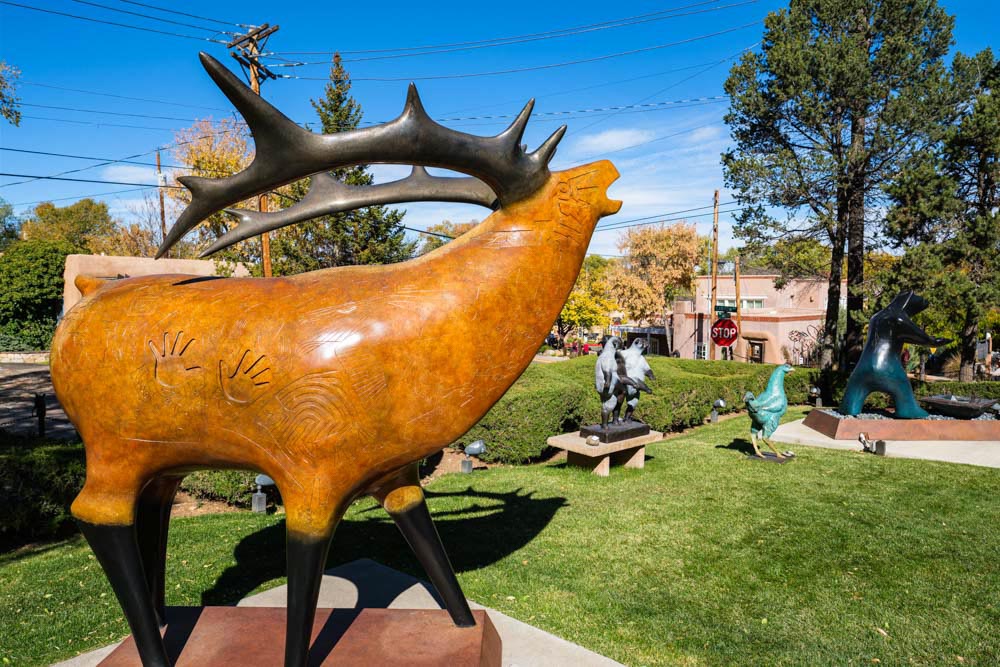 We recommend strolling along Canyon Road in the evening when the galleries are open and the streetlights are lit. The entire place feels like something out of a fairytale! When hunger strikes, you'll find plenty of Southwest-style restaurants to choose from in the Canyon Road Arts District.
---
7. Relax in one of Santa Fe's Hot Springs
Soaking in a hot spring is one of the top things to do in Santa Fe, and it's an amazing way to relax after a long day of exploring. Santa Fe is home to several natural hot springs, and you can visit any of them for a rejuvenating soak in the mineral-rich water.
Locals also swear by the healing powers of the hot springs, so if you're feeling a little under the weather, a visit to one of these areas might be just what the doctor ordered.
If you only have time for one or two hot springs, we recommend hidden gems like the Black Rock Hot Springs, McCauley Hot Springs, and the Stagecoach (Manby) Hot Springs. Ask a local for directions because there's a bit of a hike involved with each one!
---
8. Sample Santa Fe's Best Foods
It's impossible not to fall in love with Santa Fe's local cuisine. There are so many amazing dishes to try here, and they all reflect Santa Fe's rich history, spectacular landscapes, and strong Southwestern identity.
For example, you can't visit Santa Fe without trying a bowl of posole, which is a traditional New Mexican stew made with hominy, green chiles, and pork. Another must-try dish is the green chile cheeseburger – it's a Santa Fe institution! The authentic enchiladas, burritos, and tacos should also be on your list of must-eat things in Santa Fe.
Of course, you can't leave without sampling some of the local desserts. One of our favorites is biscochitos, which are light, flaky cookies made with lard and anise.
As for drinks, margaritas are, of course, a must in Santa Fe. But make sure to also try a local beer or cider. The Santa Fe Brewing Company and Desert Dogs Brewery and Cidery are both local favorites.
---
9. Dive Into Psychedelic Art at the Meow Wolf Installation
Meow Wolf is a Santa Fe-based art collective that's best known for its large-scale immersive art installations. You'll find them in Denver, Las Vegas, and Santa Fe!
The most popular of these immersive art experiences is Santa Fe's House of Eternal Return, which is a 20,000-square-foot mystery house that's filled with secret passages, hidden rooms, and mind-bending optical illusions spread across 70 rooms.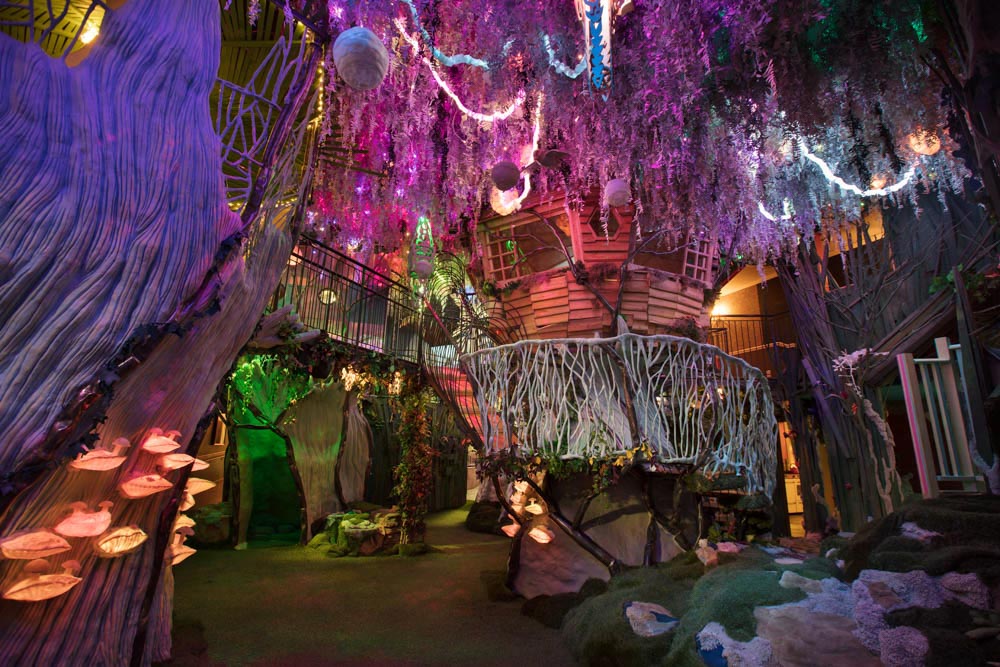 Every minute we spent there felt like an adventure, and we still can't wrap our heads around how they created such an intricate, mindboggling space! If you're looking for fun things to do in Santa Fe, we highly recommend a visit to Meow Wolf's House of Eternal Return!
---
10. Explore the Past at the El Rancho de las Golondrinas
Step back in time at the El Rancho de las Golondrinas, which is a 200-acre living history museum that recreates an 18th-century Spanish ranch.
During your visit, you'll get to explore the ranch buildings and grounds, watch traditional Spanish dances, learn traditional cooking skills, and even try your hand at forging iron like a blacksmith or weaving.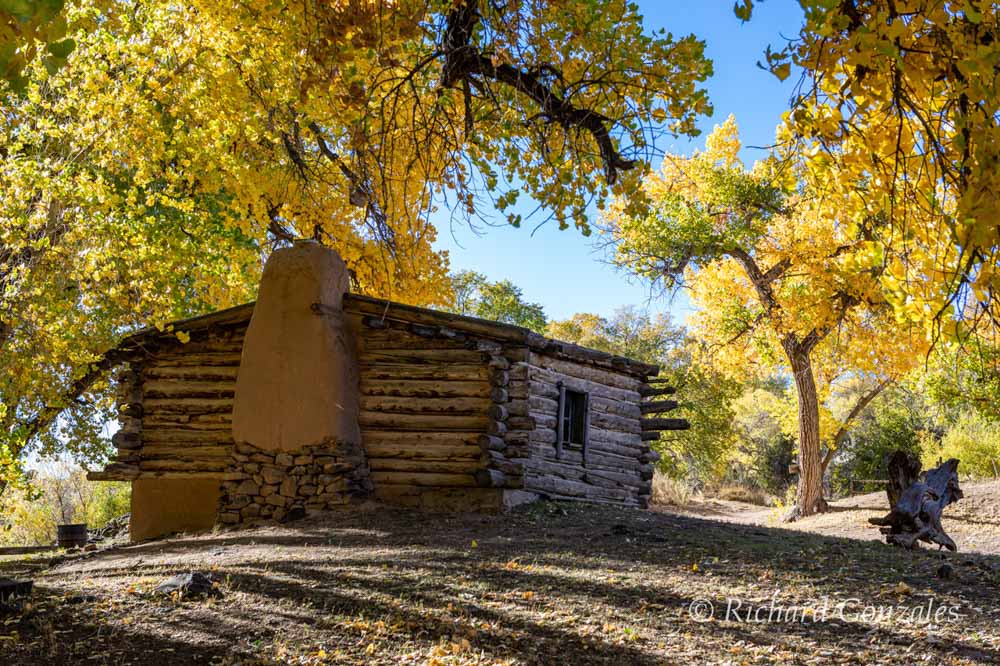 The rancho is also home to a traditional mercado (market), where you can buy handmade pottery from local artisans and watch traditional cooking demonstrations. It's a one-of-a-kind experience that truly makes you feel like you've been transported back in time!
---
11. Go White Water Rafting at the Rio Grande
This one is for the thrill-seekers! Santa Fe boasts the Rio Grande, which is one of the best places in New Mexico for white water rafting. The Rio Grande is known for its incredibly high volume of water, which makes it a perfect spot for thrilling rapids.
If you're up for it, we can't recommend this activity enough. The rapids are pretty intense, but there are also plenty of calmer sections where you can really appreciate the beauty and serenity of the river.
You can also go fishing while you're here or go on a day hike and explore the area's many beautiful trails. It's impossible to explore this area without seeing some wildlife, so keep your eyes peeled for deer, wild turkeys, and even bears!
The best time to go white water rafting on the Rio Grande is in the spring and summer. If you're looking to avoid the crowds, we recommend going during the week rather than on weekends.
Be sure to bring plenty of sunscreen and water, as well as a dry bag to keep your belongings safe while on the river.
---
12. Watch a Performance at the Santa Fe Opera House
If you're a fan of opera, then you'll definitely want to catch a performance at the Santa Fe Opera House during your visit. It's one of the most stunning opera houses we've ever seen, and it's also home to one of the oldest continuously operating opera companies in the US.
Some of the world's biggest opera stars have performed here, such as Plácido Domingo, Beverly Sills, and Maria Callas.
If you're not an opera fan, don't worry – the Santa Fe Opera House also hosts a variety of other performances throughout the year, including dance, theater, and music concerts. Sometimes, you can even catch a performance by the Santa Fe Symphony if you're lucky!
The Santa Fe Opera House updates its performance schedule and ticket prices on its website, so make sure to check it out before your trip.
---
13. Check Out Santa Fe's Historic Landmarks
Santa Fe's long and fascinating history is evident in its many historic landmarks, which include churches, museums, and even an entire historical neighborhood. Strolling through the Santa Fe Plaza and the surrounding area is like traveling to the past. We swear we could almost hear the sound of hooves on the dusty ground!
Some of our favorite stops include the Palace of the Governors, the oldest government building in the US, and the San Miguel Mission, the oldest church in the continental US.
Other Santa Fe sightseeing landmarks include the Cathedral Basilica of St. Francis of Assisi, the historic La Posada hotel, and the park and bandstand on the Santa Fe Plaza.
We strongly suggest taking it slow while exploring these landmarks as there's so much to see and learn at each one. For example, the Palace of the Governors is home to a museum with a fascinating exhibit on the history of New Mexico's Native American tribes.
The Cathedral Basilica of St. Francis of Assisi is full of detailed decorations that will leave you in awe, such as the stunning stained glass windows and the carved wooden altar.
---
14. Conquer the Dale Ball Trails
If you're a hiker or mountain biker, you need to add the Dale Ball trail system to your list of things to do in Santa Fe. Here, you can explore over 20 miles of trails that lead up to some seriously breathtaking views.
You can choose between the two main trails – the moderate Sierra del Norte (aka the Corral) trailhead and the moderate (but slightly steeper) Cerro Gordo Trailhead. And before you head out, be sure to stop by the Santa Fe Trails tourism office so that they can give you a map of the trails.
The Dale Ball trails are open all year round, but we recommend going in the spring or fall when the weather is cooler and the trails are less crowded. Don't forget to bring plenty of water and snacks, and dress in layers as the temperature can fluctuate throughout the day.
As for things to do along the way, there are plenty to choose from. You can go birdwatching, picnicking, and even mountain biking. You can also explore some of the area's many ancient ruins, such as the Pueblo Bonito site.
And when you finally reach the top, you'll be treated to long-distance views of the Sangre de Cristo Mountains and the Jemez Mountains. It's one of those views that you have to see to believe!
---
15. Go Skiing Southwest Style
This may come as a surprise, but you can actually go skiing in Santa Fe! And we're not just talking about the manmade slopes at the Santa Fe Ski Basin. You can actually head out into the mountains and find some epic, untouched powder.
And let us tell you – it's not for the faint of heart. Skiing in Santa Fe is all about conquering steep slopes and deep, powdery snow.
As for the Santa Fe Ski Basin, it remains one of the best ski areas in the Southwest, primarily because it offers a wide range of slopes for all levels.
But if you're really looking for a thrill, then we suggest hitting the backcountry. The Valles Caldera National Preserve offers some of the steepest slopes in the Southwest, so make sure you're ready to tackle them.
And don't worry – if you get tired, you can always take a break and enjoy the views of the surrounding mountains and valleys.
There you have it! The 15 best things to do in Santa Fe. What's your favorite thing to do in Santa Fe?
---
Planning a trip to New Mexico? Check out our favorite books and travel guides!
---
SHARE THIS ON PINTEREST
---