The famous Na'Pali coastline is a highlight of Kauai. And the Kalalau Trail is the best way to explore this coastline up close. Recognized as one of the world's most dangerous hikes, come ready for a grueling trek. But the reward at the end is worth every ounce of pain and struggle to get there. And along the way, there are several spectacular offshoots and trails to explore.
This Ultimate Guide for the Kalalau Trail will walk you through everything you need to know for this hike. For more to do in Kauai, check out our guide for camping and permits on the island: Camping and Permits in Kauai.
Content and photographs provided by Yana Kogan and Timon.
Disclaimer: This post may contain affiliate links. If you make a purchase or booking through one of our links we may earn a small commission (don't worry, it's at no extra cost to you).
---
How to Book Permits for the Kalalau Trail
Permits are required to hike past mile 6 on the Kalalau Trail – which is known as the Hanakoa junction. You'll need to plan ahead and book permits in advance as tickets often sell out. Permits are obtained from the Hawaii camping reservation system.
If tickets are sold out for your preferred dates, you can check every morning between 8:30 am – 9 am (Hawaii time), as they reopen canceled reservations. The cost is $25 per person per night for Hawaiian residents and $35 per person per night for out-of-state. Book your permits here.
People hike this trail without a permit, including the dozens of locals who physically live at Kalalau Beach illegally. During our hike, there was an undercover park ranger requesting to see permits for anyone with a pack on. Please support Hawaii and buy a permit for this hike.
---
How to Get to the Kalalau Trail
The trailhead starts in the Ha'ena State Park, at Ka'a Beach. A good option is to stay at the Ha'ena Beach park the night before the hike. It is located 1.2 miles from the trailhead. For more on booking permits for Ha'ena Beach (county park) read more here.
---
Kalalau Trail Hike Details
Kalalau trail distance: 11 miles one way
Hanakapi'ai trail: 2 miles one way
Hanakoa trail: 4 miles one way
Kalalau Valley trail: 5 miles one way
Difficulty: Hard
---
The Kalalau Trail Hike
The Kalalau trail hike begins at Ka'a Beach at the end of the parking lot. Start the hike as early as possible so you're ahead of the day hikers and have ample time to finish the hike before dark. There is the main Kalalau trail, as well as several offshoots to waterfalls and swimming holes. We recommend making this a 3-day hike at least.
1st Day: Hike the Kalalau trail to Kalalau Beach (12 miles) and include the offshoot at mile 6 to Hanakoa Waterfall (+1 mile).
2nd Day: Spend the day relaxing at Kalalau Beach and explore the trails up to the swimming holes in the Kalalau Valley (+4 miles).
3rd Day: Hike out of the Kalalau (12 miles) and include the offshoot at mile 2 to Hanakapi'ai Waterfall (+4 miles).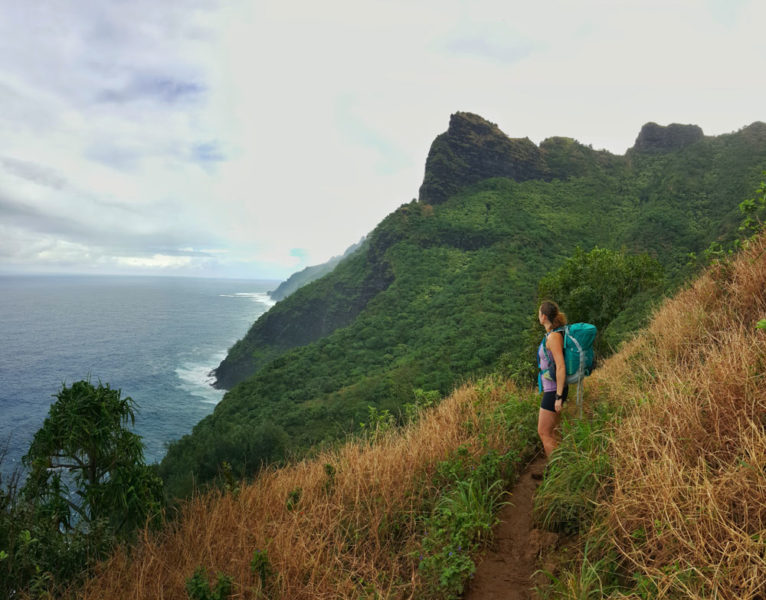 The first mile is mostly uphill before getting to the Hanakapi'ai Valley. At mile 2, there is a river crossing at the Hanakapi'ai Stream. Please be aware of flash floods, as this is the number one place for deaths along the Kalalau trail. This is the first offshoot hike to the Hanakapi'ai Falls.
Continue on the Kalalau trail and after three miles, you'll see incredible views down the Na'Pali coast.
The trail winds into the Hanakoa Valley (mile 6) and becomes very lush. Hanakoa is near the midway of this hike, and a good place for a break and to replenish water. There is a big ascent out of the gorge at Hanakoa, where the trail reaches the coastline again.
The coastline is dry and comes with an amazing view and leads to one of the most feared and famous sections of this hike – "crawlers ledge".
At 10 miles, there is a sign for the Kalalau Valley. This is the final push, with a large descent down the Red Hill with epic views into the valley and Kalalau beach. The Red Hill is the steepest part of the hike, but much worse on the return hike out of Kalalau.
The Kalalau stream is at mile 11. From here, the campsites are another 1/2 mile away. There is a 1/2 mile stretch of beach with campsites to choose from. A waterfall provides drinking water at the end of the beach. It is important to filter water due to a potentially fatal disease, leptospirosis. To be closest to freshwater, camp near the end of the beach.
---
Hanakapi'ai Falls Trail – Offshoot at Mile 2
Distance: 4 miles round trip
The trail to Hanakapi'ai Waterfall starts at mile 2 immediately after the stream. This trail can be very busy with day hikers and can also get very muddy.
Along this trail, there is a small bamboo forest. There are several times this trail requires you to cross the stream, so please be aware of flash floods.
---
Hanakoa Falls Trail – Offshoot at Mile 6
Distance: 1-mile round trip
The Hanakoa Falls trail starts at mile 6 and is clearly marked after you cross the stream. It's only a 1/2 mile hike to the falls. Day hikers likely won't make it this far, as you are now entering territory for only those with a permit. We were the only ones on this offshoot trail and enjoyed this stunning waterfall entirely to ourselves.
---
Kalalau Valley Trail – Mile 11
Distance: 4 miles round trip
The Kalalau Valley is at mile 11, just before arriving at Kalalau Beach. This is a great day hike while staying at the beach. There is a trail that follows the stream up into the valley where there are several swimming holes to enjoy, including one with a rope swing.
This is also an excellent place to replenish drinking water before returning to Kalalau Beach.
---
What to Pack for the Kalalau Hike
Tent
Sleeping bag
Sleeping pad
Water filter
Sunblock
Bug spray
Cooking stove & fuel
Cookware
Bathing suit
Small utility rope to hang clothes
Hiking shoes
Headlamps
Light waterproof jacket
Pack rain cover
Lighter
---
That's it – our ultimate guide in hiking the Kalalau Trail! We hope you have a wonderful vacation!
---
Planning a trip to Kauai? Check out our favorite books and travel guides!
---
SHARE THIS ON PINTEREST
---