Is Uzbekistan safe? This is a common question that we received during our three-week trip to Uzbekistan. Many people see the shared border with Afghanistan, which is generally considered to be unsafe for Americans, and assume that Uzbekistan experiences similar unrest.
It is rather difficult to find safety information about Uzbekistan as the government does not release accurate crime statistics. The country has long been considered a "police state". As such, a political police force secretly supervises the activities of citizens. But changes are occurring to restore faith in the government and the police force.
Read on to learn about how Uzbekistan is changing its perception to encourage tourism, and what we experienced during our trip to Uzbekistan. And the short answer is yes, Uzbekistan is safe to visit!
Disclaimer: This post may contain affiliate links. If you make a purchase or booking through one of our links we may earn a small commission (don't worry, it's at no extra cost to you).
---
Outdated Safety Information
Prior to landing in Uzbekistan in April of 2019, we didn't know exactly what to expect in terms of safety. We read blogs from 2017 that relayed stories of trading currency on the black market and foreigners having their computers and luggage thoroughly searched for pornographic material. Then there were the shakedowns by corrupt police officers.
We read that we needed to carry color copies of our passports because cops would ask to see foreigners' passports. Then, they would refuse to return them without a monetary bribe. And they said to exercise caution when snapping photos of government buildings or officials.
Luckily, we didn't experience any of these things. We breezed through immigration and customs and had no trouble exchanging money legally. And we only used our passports when checking into hotels, buying train tickets, purchasing SIM cards, and entering the Tashkent Tower.
That in mind, I wouldn't recommend taking photos of any government officials or police officers, just in case.
Impending Safety Improvements
In 2017, the President of Uzbekistan, Shavkat Mirziyoyev, announced 78 different law enforcement reforms. These began in 2018 and expect to conclude by 2021. These reforms are meant to improve the public perception of law enforcement in Uzbekistan and encourage international tourism.
And the changes are working! In 2019, a Gallup poll asked residents of 142 countries about how safe they feel in their home country. Questions from confidence with walking alone at night to whether or not they've ever been a victim of a crime. It also asked about confidence in the police. The information was compiled into the Solo Travel Safety Report. Uzbekistan ranked 5th behind Singapore, Norway, Iceland, and Finland.
Safety in Uzbekistan Borders
Most countries advise against land border crossings between Uzbekistan and most of its neighbors. It's best to avoid it if possible.
The border with Afghanistan is a border barrier that follows the Amu Darya River. It is one of the most heavily guarded borders in the world. It includes a barbed wire fence, an electrified barbed wire fence, land mines, and a patrol of heavily armed soldiers. A testament to how seriously Uzbekistan takes the safety of its citizens.
Safety Precautions in Uzbekistan
You should exercise regular safety precautions in Uzbekistan, as you would in any city in the world. Violent crimes against foreigners are quite low. Pickpocketing and other opportunistic crime is also uncommon but can happen in crowded areas.
Homosexuality is illegal in Uzbekistan and same-sex practices are punishable by up to three years in prison. It is also often discriminated against by the locals. If you are a member of the LGBTQ community, public displays of affection are not ideal in Uzbekistan.
The terrorism threat in Uzbekistan is considered medium. Read all about the US Department of State's crime assessment here.
Our Personal Experience with Safety in Uzbekistan
Nick and I visited Uzbekistan for three weeks in April of 2019. We started in Tashkent, took the train from Samarkand, then to Bukhara, and then got a driver to Khiva. We took day trips to Shakhrisabz, and one to the city of Muynak to see the Aral Sea ship cemetery.
And along the way, we met the friendliest, most hospitable people. We never felt unsafe or threatened in any way. We walked around at nighttime, down dark streets and alleyways, and felt totally comfortable. And as a female, I would feel totally comfortable traveling to Uzbekistan on my own.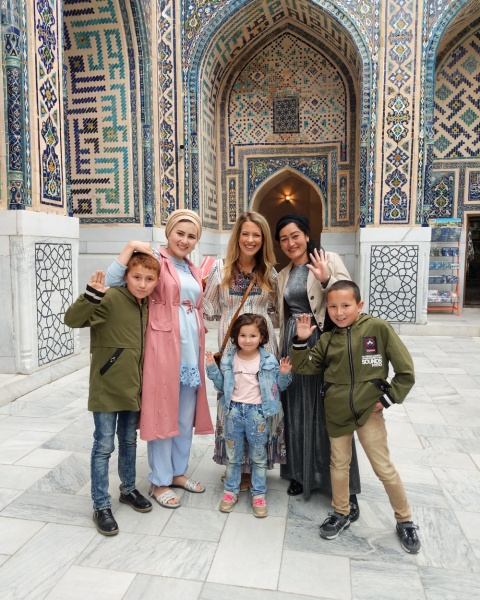 Of course, as with anywhere in the world, opportunistic crime can happen. So don't leave a pile of money on your nightstand when you leave for the day. But you can rest assured that Uzbekistan will be incredibly welcoming and willing to help whenever you need it.
So in conclusion, is Uzbekistan safe? Absolutely!
---
Want help planning your trip to Uzbekistan? Check out our favorite travel guides!
---
SHARE THIS ON PINTEREST