The run-up to Christmas is one of the most magical times of the year to visit London. During the festive season, the streets are adorned with hypnotic twinkling lights, the sweet smells of roasted chestnuts and candied almonds sail through the air, and cheerful Christmas songs help everyone get into the holiday spirit.
One thing that definitely makes this the most wonderful time of the year is all the magical Christmas markets that pop up throughout the city. These enchanting markets are incredible places to find one-of-a-kind trinkets and gifts lovingly created by talented locals. But there's much more to London's Christmas markets than a bit of shopping.
Among the craft stalls, you'll find all kinds of delicious eats, ranging from traditional mulled wine and German sausages to exotic kangaroo burgers and melt-in-your-mouth fudge. Some of the bigger London Christmas markets also incorporate a funfair with a wonderful mix of timelessly classic carousels and modern high-speed rollercoasters.
Some of the best London Christmas markets really go all out and feature extravagant extras you won't find anywhere else. From giant ice skating rinks and snow-dusted hedge mazes to whimsical Christmas tree trails and music stages with excellent lineups, some Christmas markets have so much going on that you'll want to visit again and again!
Even though it's only a single city, London boasts a fantastic number of Christmas markets. To make your planning a little bit easier, we've put together a list of the absolute best Christmas markets in London. Make sure you visit at least one London Christmas market during your trip, and you're guaranteed to have a fantastic time this holiday season.
Disclaimer: This post may contain affiliate links. If you make a purchase or booking through one of our links we may earn a small commission (don't worry, it's at no extra cost to you).
---
12 Fun and Festive Christmas Markets in London
1. Selfridges Christmas Market
Although it's one of the newest Christmas markets in London, the Selfridges Christmas Market is already well established and extremely popular. Located in Edward Mews, at the back of the Selfridges store, this Christmas market boasts loads of incredible activities and attractions that are suitable for the whole family.
For foodies, there's Selfridges Selection. This is where you'll find all kinds of indulgent festive treats, including mince pies, panettone, and stollen. If you're looking for something a little heartier, check out the tempting food vendors. Selling everything from Italian pizza and Venezuelan arepas to sweet waffles and moreish donuts, there's no way you'll go hungry here!
To wash all the goodies down, there's a fantastic selection of festive, warming drinks available, too, such as fresh coffee, hot cocoa, mulled wine, signature cocktails, and craft beers.
While the food and drink selections here are sublime, there's plenty of other stuff to get involved with, too. Selfridges collaborates with Moyses Stevens to provide you with an excellent range of sustainable Christmas trees.
Even though they may be a bit too big to fit in your case and take back home, it's still fun to wander around and admire them. For small decorations, like dried seasonal flowers and fresh wreaths, there's the London Florist.
To top everything off, you'll also find a helter-skelter, visits from Santa, family-friendly games, and all kinds of sophisticated gifts.
---
2. Kingston Christmas Market
For a little bit of Europe in a classic British setting, visit the Kingston Christmas Market. Nestled in the center of Kingston-upon-Thames, a traditional market town on the outskirts of London, this market is much quieter than many others on this list. But it still has a wonderfully festive atmosphere that will sweep you off your feet.
Here you can take an evening stroll around 40 Bavarian-style cabins laden with one-of-a-kind handmade gifts. From cozy woolen hats and delicate jewelry to iced gingerbread and artisan cheese, there's loads to choose from here.
Each stall is beautifully adorned with colorful decorations and glittering lights. Even if you're not in the mood to buy anything, it's still a great place to wander around.
The Alpine Village is the highlight for us. Here you can snuggle up with your travel buddy around a roaring fire pit while digging into candied nuts and sipping spiced cider. If you want something a little more substantial, you'll find smoky bratwurst cooked over an open flame, as well as quirky British takes on classic Christmas fare.
In the center of the Alpine Village stands the beautifully resorted vintage carousel. Plus, you'll find the Pyramid Bar Stage just a few steps away. Here you can see all kinds of amazing acts, such as stand-up comedians, local choirs, and live artists. They even have Oompah bands wearing lederhosen!
---
3. Covent Garden Christmas Village
The Covent Garden Christmas Village is one of the most diverse and comprehensive Christmas markets in London. Whether you want to have a fun day out as a family, a romantic evening for two, or a festive night on your own, this Christmas market is guaranteed to deliver.
Kids (and most adults, too!) will love the interactive LEGO feature. It looks like an off-the-wall carousel, but it's actually a moving display full of Christmas LEGO characters. There's also a LEGO store just a short walk away if you need to snap up some gifts before the big day.
For some more fun, check out the Christmas tree forest. Here you can wander around beautifully decorated Christmas trees and maybe get some inspiration for your own.
Like all London Christmas markets, the Covent Garden Christmas Village has a fantastic selection of food stalls dishing up treats from all around the world. But for an extra special experience, book one of the bauble dining domes. These glass pods look like delicate Christmas decorations and allow you to dig into a delicious meal in the warmth while still enjoying all the festivities outside.
The stage is almost always busy with live artists and bands playing fun, festive music. Keep an eye out for special performances, such as the Coven Garden Christmas Choir, which is made of rising West End stars!
---
4. Christmas Under the Canopy at King's Cross
When the weather's too bad to be outside, head for Christmas Under the Canopy. King's Cross hosts a regular covered market every weekend. But between the end of November and Christmas Eve, the ordinary market is transformed into a festive wonderland.
Although you won't find any fairy lights or Christmas trees like you get at the bigger London Christmas markets, Christmas Under the Canopy has a friendly, welcoming atmosphere which can be preferable if you find markets like Winter Wonderland a little too tacky and artificial.
Beautiful paper stars hang from the ceiling, while the floor is filled with stalls selling food, drinks, gifts, and stocking fillers. The food here is surprisingly affordable and varied, with a great selection of meat and fish dishes, as well as vegetarian and vegan options.
You'll find plenty of alcohol-packed mulled wines and spiced ciders, as well as delicious alcohol-free alternatives. Some of the food and drink stalls even offer freebies and tastings, so you can try plenty of sips and nibbles without breaking your budget.
What makes this Christmas market extra special are the arts and crafts classes. Some of the talented creators who make the goodies on sale at the market run masterclasses, showing you how to make their products. A handmade gift always makes a wonderful Christmas present!
---
5. Christmas in Leicester Square
Between November and January each year, the center of bustling London gets dressed up and hosts the spectacular Christmas in Leicester Square. Alive with traditional decorations, colorful lights, and lighthearted music, this market will definitely get you into the festive spirit.
Ideally located just a short walk away from Leicestershire Square tube station, Christmas in Leicester Square is easy to get to from pretty much anywhere in London. If you're planning on walking there, there's no way you can miss it. The market is known for its huge Christmas tree, which towers into the sky.
As well as the fabulously decorated Christmas tree, the traditional 1920s Spiegeltent is also one of the highlights. Here you can watch all kinds of incredible award-winning shows, from traditional circus performances to literary readings by famous authors. The shows change every year. To find out what's going on during your visit, check out the website and snap up your tickets.
With their authentic German-style, classic red roofs, and bright festive lights, the Christmas market huts look like they've been plucked straight from a greetings card. We definitely recommend you arrive hungry because there are loads of delicious snacks and bites to choose from.
Whether you're in the mood for fluffy roasted chestnuts, smoky bratwurst, creamy eggnog, or sweet mulled wine, Christmas in Leicester Square is a wonderful place for lunch or dinner. With plenty of stalls selling handmade gifts and stocking fillers, it's also a top location to do some Christmas shopping.
---
6. Borough Market Christmas Market
No matter when you travel to London, Borough Market should definitely be on your must-visit list. A foodie's dream come true, this market boasts international street food, English classics, all kinds of alcoholic and non-alcoholic drinks, and all the exotic ingredients you need to whip up amazing dishes back home.
Between November and December, the gourmet market becomes an even more magical place. Decked out from top to bottom for the holidays, the food-focused market is decorated with tall Christmas trees, sparkling wreaths, festive ribbons, and glittering baubles at this time of year. If you're looking for must-visit London Christmas markets, this is the perfect pick!
Most food stalls sell their usual culinary delights with either some classic Christmas dishes or some festive twists on their standard offerings. So expect to find epicurean eats such as potatoes covered in raclette cheese, freshly-shucked oysters, and beef bagels, in addition to luxury cheese boards, different kinds of mulled wine, and all-butter mince pies.
Live music is provided in the form of jolly buskers and spiritual choirs. The festive music creates a great atmosphere to compliment your extravagant meal or snack.
Borough Market Christmas Market also hosts a number of great events in the run-up to the big day. Join in with a cooking class to learn how to make shortbread cookies, or attend a cheese evening to find out how to make the perfect seasonal cheeseboard.
---
7. Southbank Center Winter Market
If you're planning on visiting the London Eye during your trip, don't miss the chance to stop by the Southbank Center Winter Market. Just a short walk away from the famous landmark, this is definitely one of the best Christmas markets in London.
The market's prestigious location is one of the reasons we like this particular market so much. From here, you can see the River Thames, the London Eye, and Westminster. These major attractions, combined with the fantastic Christmas decorations, make this market an excellent place to snap seasonal selfies!
If you've got a sweet tooth, you'll love the Rekorderlig Cider Lodge. This giant food and drinks venue creates all kinds of cold and hot cocktails made from Rekorderlig cider. If you're not sure what to order, we definitely recommend a cocktail made with spiced plum cider. It's beyond delicious! As Rekoderlig is a Swedish brand, you'll also find yummy Swedish dishes available.
There are plenty of other places to grab something to eat or drink, too. The Southbank Center Winter Market is bursting with food stands, pop-up bars, restaurants, and cafes where you can indulge in everything from truffle burgers and gourmet grilled cheeses to vegan duck wraps and Dutch pancakes.
---
8. Christmas at Flat Iron Square
Just like Borough Market, Flat Iron Square is a lively foodie market for most of the year. But from the end of November, the gourmet spot gets into the festive spirit and transforms into one of the best London Christmas markets with countless tasty things to eat and drink.
We love the Apres Ski Lodge. With comfy armchairs, fluffy cushions, crackling fires, and creative cocktails from around the world, the Apres Ski Lodge is the perfect place to relax after a long day or have a few drinks before hitting the town. It's so authentic that you really can forget you're in a bustling city and not on a peaceful snowy mountain slope.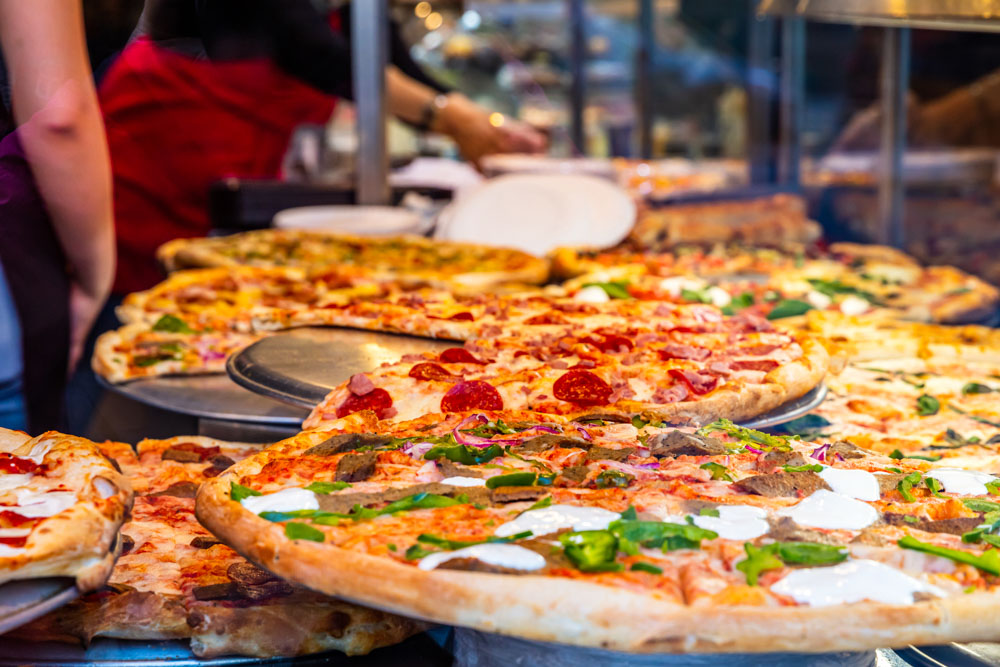 If you need something to go with your gingerbread old fashioned or salted caramel espresso martini, you'll find all kinds of festive bar snacks on offer, like candied pecans, mince pies, and gingerbread.
For something a little more substantial, see what's available from the many different street food vendors. From crunchy smash burgers and super-thin Neapolitan pizza to flavor-packed pad thai and addictive halloumi wraps, there's no way you'll leave hungry.
So you can get a little more involved and maybe even make some special gifts for friends and family, Christmas at Flat Iron Square also organizes a number of holiday workshops.
---
9. Christmas by the River
One of the most Instagrammable Christmas markets in London, Christmas by the River is located in London Bridge City and boasts remarkable views of Tower Bridge and the Tower of London. It's a wonderful place to stop after a romantic stroll along the riverside.
The rustic wooden huts provide a striking contrast to the metropolitan cityscape, making the place even more magical and alluring. Take a peek inside them, and you'll find all kinds of tempting handicrafts, such as cozy scarves, elegant jewelry, artisan soaps, and customized Christmas decorations.
A great place to visit on an empty stomach, Christmas by the River is also home to a number of pop-up food stalls and bars. Whether you're in the mood for award-winning cheese, gingerbread cocktails, fluffy potato pancakes, craft ales, sweet roasted almonds, mulled wine, chimney cake, or flame-grilled salmon, you're sure to find it here.
Every year, Christmas by the River also hosts some spectacular events. From food and drink tastings to broaden your palette to family-friendly workshops so you can make your own Christmas decorations and even storytelling events to help little ones get in the festive spirit, there's a lot going on.
Be sure to look out for posters advertising this year's events to see what's happening during your visit.
---
10. Maltby Street Christmas Night Market
Feel like you've waltzed straight into Dickens' A Christmas Carol by visiting the Maltby Street Christmas Night Market. Hidden away from the bustling city streets under Victorian railway arches, this market has a more relaxed and traditional vibe than many other London Christmas markets.
Here you can hop from stall to stall under glittering fairy lights, filling up on delicious dishes from around the globe, created by some of the food market's finest traders. There are plenty of stalls selling freshly-brewed coffee, hot cocoa, mulled wine, and spiced cider to keep you warm as you browse.
To add to the festive spirit, Christmas songs are played in between live caroling performances. If you're on the lookout for a Christmas tree, you'll find plenty of stunning sustainable options here.
Or, if you're searching for something a little smaller, check out one of the live wreath demonstrations. You may feel inspired to make your own! Failing that, you can buy one of the many beautiful wreaths from the market's talented vendors.
---
11. Greenwich Christmas Market
Greenwich Market is a wonderful place to explore at any time of year. It's home to 120 stalls selling all sorts of goods, from food, antiques, and artwork to handicrafts, fashion, and beauty products. Throughout December, the market dedicates one night each week to the festive season and hosts one of the most spectacular Christmas markets in London.
Thanks to its location, away from the center of the city, Greenwich Christmas Market is one of the quieter and more low-key markets on this list. But that doesn't mean it's not worth visiting. On the contrary, this market is the perfect place to go if you want to support local creators and get into the festive spirit without having to deal with lines and crowds.
The market is located in a UNESCO World Heritage Site, which is pretty special on its own. But decorate it with oversized snowmen, full wreaths, tall trees, twinkling lights, and red ribbons, and the market transforms itself into an excellent place to shop for stocking fillers or grab something festive to eat.
Buy a cup of steaming mulled wine and sip as you browse through stalls selling everything from quirky photographs and scented candles to vegan brownies and spicy hot sauce.
---
12. Hyde Park Winter Wonderland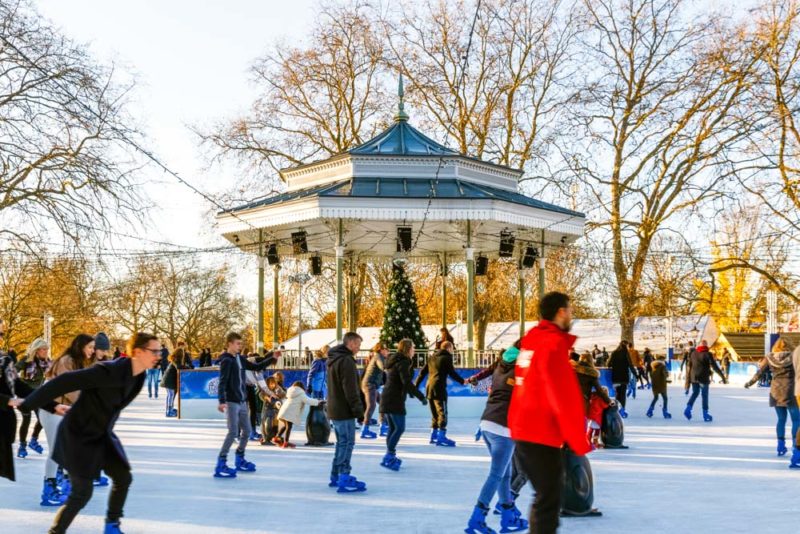 The biggest and most popular Christmas market in London is easily the Hyde Park Winter Wonderland. This giant market covers almost all of Hyde Park and is bursting with so many things to see and do that you'll want to return again and again!
The huge ice skating rink is one of our favorite parts of Winter Wonderland. It's the biggest one in the UK and is just as good for a fun family day out as it is for a romantic experience. If you're traveling with your children, you'll love the mini penguins kids can use to help them skate. Or, if you're visiting as a couple, you'll find the twinkling lights and live music add an intimate atmosphere.
When you're in the mood for something to eat, head to the Bavarian Village, where you'll find typical wooden huts dishing up all kinds of warming German eats. If you feel like something else, there are plenty of other stalls dishing up international street eats.
There's a number of great spots to grab a drink. We recommend buying some hot cocoa or sparkling prosecco and enjoying it in the Carousel Bar. It gently spins around while you drink!
With amazing circus shows, a giant observation wheel, a magical ice kingdom, a fun-filled Santa Land, and an ice slide, you'll never be stuck for what to do here.
And there you have it! These are our picks for the best Christmas markets in London. Have you ever visited a London Christmas market? Which is your favorite?
---
Planning a trip to London? Check out our favorite books and travel guides!
---