Denver, Colorado, known also as the 'Mile High City' due to its elevation of 5,280′ above sea level, is an unparalleled vacation destination. With gorgeous Rocky Mountain hikes and ski slopes, breathtaking historic buildings, countless concert venues, and delicious restaurants galore, there's something for everyone in Colorado's capital city.
During your Denver trip planning process, you'll have to set aside your exciting activities list for a little while to pick a place to stay. But rather than dread the accommodation search, we're here to make your life a little easier with this list of the best Airbnbs in Denver.
Considering the staggering variety of Denver Airbnbs, it can be difficult to narrow down the best vacation homes in the city. But instead of making you scroll through the hundreds of vacation rentals, we've already done the work for you. We've made a list of 12 of the best Airbnbs in Denver so you can easily select the one that is best for your Colorado getaway!
Disclaimer: This post may contain affiliate links. If you make a purchase or booking through one of our links we may earn a small commission (don't worry, it's at no extra cost to you).
---
Top 10 Things To Do in Denver
Denver, Colorado is a cool mix of city and nature. While you can spend your day hiking or skiing in the mountains, you're close enough to make your way to the downtown area by nightfall for some delicious food or refreshing drinks.
Catch a concert at Red Rocks Amphitheater. This outdoor music venue in the middle of breathtaking red rock formations has hosted hundreds of famous musicians, including The Beatles, OneRepublic, and U2. Listening to your favorite band at Red Rocks is definitely one of the best things to do in Colorado!
Hike a 14er. Colorado is home to 58 mountain peaks that are at least 14,000 feet high – also known as 14ers – many of which have hiking trails that offer stunning views of the Rocky Mountains.
Spend the day in Rocky Mountain National Park. Hike one of the many stunning trails, visit the Continental Divide, and drive the Trail Ridge Road. It's one of the best day trips from Denver!
Admire the 70,000 pieces of artwork at the Denver Art Museum. With artwork from nearly every continent and every age of human history, you could spend hours perusing the exhibits.
Wander the shops, restaurants, and bars of 16th Street Mall. In the winter, pay a visit to the 16th Street Mall's Christmas market.
Grab a bite to eat at the newly renovated Union Station. Once upon a time, Union Station was one of Denver's largest train stations. Today's version of Union Station is a hub of great eateries.
Stop and smell the flowers at Denver Botanic Gardens. Or, on the opposite end of the spectrum, get hyped up during a concert at the gardens.
Venture out of the city and go river rafting. After all, with the Colorado River flowing through the state, there are tons of creeks that branch off and make perfect river rafting locations.
Soak in the cool vibe of Larimer Square. Filled with trendy restaurants, lively bars, and boutique shops, there's so much to do in Larimer Square.
Test out your skiing skills at one of the many slopes in the area, including Echo Mountain, Arapahoe Basin, and Eldora Mountain.
---
Why Stay in an Airbnb in Denver
Even though you'll find loads of cool boutique hotels in Denver, there are also lots of advantages to staying in an Airbnb. For starters, you can choose the exact location you want to be closest to. Whether that's in the heart of downtown Denver, the trendy arts district of RiNo, or one of the quieter suburbs, you'll find Airbnbs all over the Mile High City.
Plus, there is such a wide variety of Airbnbs to choose from in Denver, so you can pick a vacation home that perfectly fits your vibe. Whether you prefer to stay in a stylish guest house, a 2014 Airstream trailer, or a converted historic church, all of these options and more are available as Airbnbs in Denver.
As if that weren't enough to convince you, most Denver Airbnbs are significantly more spacious than your average hotel room. And many offer extra amenities – from private hot tubs to high-end kitchen appliances to outdoor bathtubs.
The economic value of staying in an Airbnb can't be beaten either. If you are traveling as a large group, it's much more cost-effective to split the price of a single vacation rental among everyone in your group. If you opt for a hotel, you'll find yourself paying a premium for multiple rooms, especially at the pricey oceanfront hotels in Denver.
Finally, one of the greatest perks of staying at Airbnb is the ability to connect with a local before you even set foot in Denver. If you're lucky enough to have a friendly Airbnb host, he or she will likely provide you with the best attractions, tastiest restaurants, and sometimes even the hidden gems that you wouldn't have found on your own. Who knows? You might even make a new friend!
Search Denver Hotels and Vacation Rentals
---
The 12 Best Airbnbs in Denver
Best Denver Airbnbs for Couples and Solo Travelers
This historic carriage house is definitely one of the best Airbnbs in Denver. Not only is it one of the most highly rated Airbnbs in the city, but it has also secured its place on just about every list of cool Denver Airbnbs.
So what exactly makes this historic carriage house so special? It can be boiled down to three main things: the building itself, the location, and the host. This 1800s historic carriage house was once a simple stable for carriage horses. Now, it manages to balance the old with the new surprisingly well.
While the battered bricks and distressed furniture give a rustic feel, guests will appreciate the modern updates throughout the renovated kitchen and heated floors. There's also a soothing hot tub in the garden to relax in after a long day of exploring the Mile High City.
As for the prime location, this Airbnb sits on the border between Denver's oldest neighborhood, Curtis Park, and Denver's trendiest neighborhood, RiNo ("River North"). So while guests can certainly admire the historic architecture in Curtis Park, they can also venture a few blocks away to RiNo for some thriving nightlife and contemporary street art.
Last but certainly not least is the host of this Airbnb. Many of the past guests have boasted about his thoughtfulness, helpfulness, and responsiveness. Basically, if you need any assistance at all during your trip, the host behind this amazing Airbnb will be there for you.
---
Another one of the coolest stays in town for a couple or solo traveler is Tiny Denver. This modern tiny home's uniqueness shows right off the bat through its eye-catching half-metallic, half-wooden exterior.
The striking nature of this tiny home continues inside as well. Within just 200 square feet, this Denver Airbnb manages to include hardwood kitchen countertops, a hotel linen-fitted queen bed, a cozy sitting area, and a luxurious white-tiled bathroom.
The location of Tiny Denver is unbeatable as well. It's only ten minutes from downtown Denver and all of its sites, including 16th Street Mall, the Denver Art Museum, and Union Station. And if you're hoping to head out into nature, it is only half an hour from the Red Rocks Amphitheater and one hour from the nearest skiing destination.
---
This spotless 2014 Airstream trailer certainly deserves a spot on the list of unique Denver Airbnbs. Lovingly nicknamed "Lazy Lightning" and situated in the Denver suburb of Wheat Ridge, this accommodation is perfect for a cozy getaway for two.
Despite its small size, this Airstream trailer is equipped with everything you may need, including a convection oven, hot water, and a queen-sized bed for two. There's even an outdoor patio that is perfect for enjoying the warm Denver summer sun.
The location of this accommodation is unique as well. Since it's situated in a Denver suburb, it takes about 20 minutes to reach many of the main attractions. But being situated outside of the city does have its advantages. While you might be further away from downtown Denver, you'll be closer to river rafting in Idaho Springs and concerts at Red Rocks Amphitheater.
---
This adorable Airbnb is the definition of a modern farmhouse! While the exterior is made of wood, it has been constructed using a modern asymmetric design. And the interior embraces contemporary minimalism but they've added animal-skin rugs and tree-inspired artwork for more of a farm feel.
This accommodation also has the perfect combination of things to tempt you to stay inside and explore the location around you. While you could head out to Pearl Street for some of the best restaurants in town, you could also whip up a delicious meal in the fully stocked kitchen.
And although you could easily venture out to explore the Cherry Creek Shopping Center and the Denver Art Museum, you could also enjoy the cozy bed and inviting sitting area instead.
---
Best Denver Airbnbs for Small Groups and Families
This eclectic Airbnb has secured itself as one of the cool Airbnbs in Denver, not just with its interior design, but with its location as well. With vintage light fixtures, traditional Portuguese-patterned tiles, and exposed brick walls, this funky artisan loft simultaneously embraces the odd combination of historical and trendy, just like the Five Points neighborhood.
This accommodation has everything you could need for your group of four. With two plush queen beds, a spacious living area, and a stocked kitchen, you'll be happy to return to this comfortable space after a long day of exploring the city.
Five Points is also a fantastic neighborhood to stay in. Influenced by African American and Caribbean culture, this trendy Denver neighborhood is home to many of the city's best restaurants and the artsy RiNo district. And it also happens to be relatively close to many of Denver's most popular sites, including Coors Field, 16th Street Mall, and Union Station.
---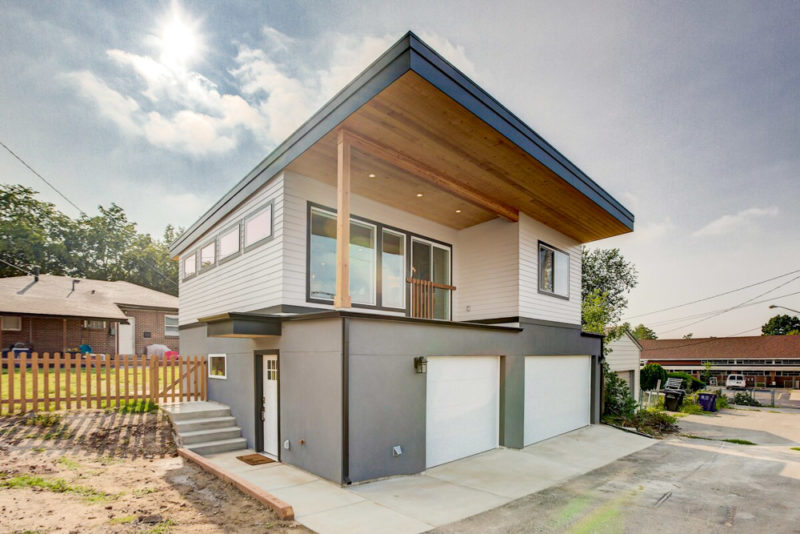 This Denver Airbnb is a sleek, stylish architectural marvel. Situated at exactly 5,280 feet (or one mile) above sea level, Suite 5280 boasts a unique modern design that ensures it immediately stands out among Denver's other Airbnbs.
The interior of this Denver Airbnb is distinctive as well with its pristine white kitchen countertops, bright accent pillows, and mountain-inspired geometric art. And while it is very contemporary, it still has all the necessities, like a fully stocked kitchen and cozy beds for all.
Situated in the Denver suburb of Clayton, this stylish guesthouse is only a few minutes away from everything that downtown Denver has to offer without the hustle and bustle of the city center. Pay a visit to Coors Field and hang out with the animals at the Denver Zoo before escaping to your quiet Airbnb at the end of the day.
Finally, the host behind this Airbnb receives heaps of praise from her guests. She has been lauded for her great communication, thoughtfulness, and fantastic local recommendations. And while this Airbnb can accommodate up to six people, it is much more comfortable for just four.
---
While some Denver homes have modern interiors and exteriors, this beautiful red brick vacation home contrasts with a modern interior with a classic exterior. The exterior of this building is a red brick carriage house from 1886, but the interior is filled with contemporary luxuries, including stainless steel appliances, comfy beds, and even a voice-controlled Alexa speaker. It'd be easy enough to relax in the welcoming living area or put together a delicious meal in the spotless kitchen.
Situated in Curtis Park, Denver's oldest neighborhood, this Airbnb's location is also something to boast about. While you could just hang out near the historic buildings in the area, you could also make the short walk to the art district of RiNo or take the short drive into downtown Denver for all of the most popular attractions.
---
This inviting Berkley guesthouse is definitely one of the best Denver Airbnbs! With its status as an Airbnb Plus accommodation and the rave reviews from past guests, you'll certainly want to stay at this accommodation if you get the chance.
So what makes this Berkeley guesthouse so great? As with all of the best Airbnbs, it's a combination of the home itself, the location, and the hosts behind the accommodation.
The interior design of this home has several pieces that are simultaneously great amenities and aesthetic additions. Warm up next to the marbled fireplace, cuddle up in bed and read an entertaining book under the self-adjusting reading light, or sit in the pair of black outdoor bathtubs with someone special.
As for the location, this Airbnb is situated in the Denver suburb of Mountain View. Just 15 minutes outside of downtown Denver, this accommodation is close to everything that the city has to offer while still getting you a bit closer to many of the fantastic nature spots that Colorado is known for, including Red Rocks Amphitheater and Rocky Mountain National Park.
Finally, the hosts behind this accommodation have helped to turn this amazing house into a true gem. Many previous guests have noted their thoughtfulness, impeccable design taste, and overall sense of hospitality.
---
It's only fair that a home in the RiNo Art District be art-focused as well, and this Airbnb delivers. With detailed drawings in the dining room, rough portraits in the kitchen, and just an overall sense for aesthetic interior design, the artsy feel of this modern RiNo home shines through.
In addition to the permeating artistic sense, the past guests rave about the amazing amenities. From comfy beds for eight to high-end kitchen cutlery, this host didn't cut any corners.
Lastly, the location of this home is unparalleled. Since it is situated in the RiNo Art District, it is near all of the tasty restaurants, trendy breweries, fantastic nightlife, and Instagram-worthy street art. And if you're hoping to check out the more traditional Denver attractions, this Airbnb is only a few miles from Larimer Square, the Denver Zoo, and the Colorado State Capitol Building.
---
Best Denver Airbnbs for Large Groups and Events
The Hellena may be one of the most unique Airbnbs in Denver! Once a historic church in the 1930s, this brick building has been lovingly converted into a modern home. And while the exterior still looks like a church, complete with a pair of soaring brick towers and a metallic cross, the interior easily feels cozy and inviting.
Warm up by the new fireplace, prepare a meal in the sleek kitchen, and wake up each morning to natural light shining through the large windows. Within just moments of entering, it'll feel like your home away from home.
This 12-person home is also one of the most centrally located homes on this list. After all, this historic building got first pick of the land! Downtown Denver, the Colorado State Capitol, and the Denver Botanic Garden are all just a couple of miles away.
---
This luxury apartment in Capitol Hill radiates welcoming warmth. With hardwood floors, cozy egg swing chairs, and plush bedding, you'll feel right at home here! And this 2,000-square foot space has everything you need from sleeping accommodations for eight to a laundry room with laundry detergent to a fully equipped kitchen.
As for the location, this Airbnb is right in the heart of downtown Denver. You can easily grab a bite to eat at Union Station, spend a day at the Denver Botanical Gardens, or peruse the artwork at the Denver Art Museum before returning for the night.
Take note that this Airbnb is situated right above a bar, so it can get quite noisy at times. But if you want to party while you're visiting Denver, it's hard to beat the convenience of grabbing a nightcap just downstairs.
---
With floating stairs, cow print couches, sleeping arrangements for eight, a theater room, an outdoor patio, a firepit, and a rooftop hot tub, there's really no other Denver Airbnb quite like this one! While staying at this modern 3-story home you'll feel like a millionaire for the entirety of your stay.
As a matter of fact, this Airbnb is so nice, you might be tempted to stay there the whole time! And honestly, there's no shame in that – a couple of past guests have admitted to doing the same – with the exception of exploring the Denver food scene, of course. After all, when else are you going to be able to enjoy the luxury of a rooftop hot tub with views of the Denver skyline?
Not only is this modern home near many amazing restaurants, but it's also close to everything that downtown Denver has to offer. So should you choose to venture outside of this mansion, you can find yourself exploring all of the exciting attractions, popular breweries, and delicious eateries mentioned in the host's extensive digital guidebook.
That's it – 12 of the best Airbnbs in Denver! Do you have a favorite vacation rental in Denver? Let us know in the comments below.
---
Didn't find the perfect Denver Airbnb? Try searching here:
---
Planning a trip to Colorado? Check out our favorite books and travel guides.
---
SHARE THIS ON PINTEREST