Arizona is best known for its iconic natural landmark, the Grand Canyon. But there's so much more to this diverse state than the world's most famous canyon. Those who take the time to explore the Grand Canyon State will discover some of the country's most captivating natural wonders, vibrant cities, and historic small towns. 
From Sedona's red rocks and the Sonoran Desert to colorful canyons and Native American cliff dwellings, you'll have no trouble filling your Arizona itinerary with interesting sights. After visiting cultural attractions in big cities like Phoenix and Tucson, explore an Old West ghost town or stop off at roadside attractions along the iconic Route 66.
With so many things to see and do in the Grand Canyon State, you might not know where to begin. So, we've compiled our list of the absolute best things to do in Arizona for you, including the top family-friendly attractions, outdoor activities, and hidden gems. Stick to this fun and unique Arizona bucket list and there's no doubt you'll have an amazing time exploring the state's endless natural beauty.
25 Cool and Unique Things to do in Arizona
1. Gaze Over the Rim of the Grand Canyon
As one of the world's most famous natural wonders, Grand Canyon National Park needs no introduction. The 5-million-year-old canyon is a hiker's dream destination. You'll find dozens of scenic trails that lead to awe-inspiring views over gorges, ridges, and unique rock formations.
Pack your hiking boots, plenty of water, and your sense of adventure for a day of exploring the park's North or South Rim. You'll find a variety of trails to suit all skill levels, ranging from easy hikes to rugged treks. It's easily one of the top hiking destinations in the United States and a must on your Arizona bucket list.
The South Rim Trail is one of the park's most popular, offering minimal elevation change along the 13-mile route and a variety of scenic viewpoints. Bright Angel Trail is another favorite, descending over 4,000 feet in nine miles from the South Rim. For a chance to see some of the best views of the expansive canyon not seen from the rim, follow the South Kaibab Trailhead, which descends 5,000 feet in seven miles.
If you've got the kids in tow, you can head over to the North Rim and capture gorgeous views of the canyon along the easy half-mile Bright Angel Point Trail. The North Kaibab Trail is the only hiking path that enters the canyon from the North Rim and has steep switchbacks that lead to the Colorado River.
---
2. Hike to the Elusive Wave
One of the most mesmerizing formations in the US, The Wave is an incredible red sandstone formation along the Arizona/Utah border in Vermilion Cliffs National Monument. It offers an adventure of a lifetime and is at the top of most travelers' Arizona bucket lists – but getting here is a challenge!
Due to its overwhelming popularity, there is a limit to the number of daily visitors in order to maintain the beauty of the Wave. Permits for The Wave are offered via an online and in-person lottery and only 64 are given out per day (48 online and 16 in person).
If you're one of the lucky few, you'll have the chance to get up close with the striated sea of rust-red and gold sandstone across the high desert. It's unspoiled nature at its finest and a prime spot for nature photographers.
Also located in the Vermilion Cliffs National Monument, White Pocket is an alternative destination if you're unable to secure a permit for The Wave, though you need a 4×4 vehicle to reach it. The surreal landscapes of colorful rocks swirling in every direction appear out of nowhere and are a hidden gem for outdoor enthusiasts.
---
3. Swim in the Turqoise Water of Havasu Falls
A bucket list item for many, Havasu Falls is one of the most famous waterfall hikes in the country. Its bright turquoise pools appeal to nature lovers and photographers alike, but accessing this remote natural wonder is tricky and requires a bit of planning and preparation.
First, you'll need a permit from the Havasupai Tribe to access the area, as Havasu Falls sits on the Havasupai Indian Reservation. Accessed via a 10-mile, moderately strenuous hike, this is not a day trip destination. All visits require a 3-night reservation at the campground or a booking at the Havasupai Lodge in Supai Village.
The actual hike is tough, with switchbacks that change in elevation by 1,800 feet in the first two miles. However, you'll be rewarded with picture-perfect views of Havasu Falls at the end, as well as access to Mooney Falls and Beaver Falls found along the Havasu Falls Trail.
Make sure to bring all the essentials on your trip, including sunscreen, a hat, a first-aid kit, snacks, and plenty of water. For your stay at the falls, a bathing suit, water shoes, and a towel are a must!
The best time of year to visit Havasu Falls is between February and November.
---
4. Go Rafting On the Colorado River
One of the best ways to experience the grandeur of the Grand Canyon is on a white water rafting trip along the Colorado River. If you're a thrill-seeker who loves heart-racing adventures, this activity should be at the top of your list of must-do things in Arizona.
Most rafting trips start at Lees Ferry near Page, about 144 miles northeast of the Grand Canyon's South Rim. There are several types and lengths of raft trips to choose from – from one-day trips to multi-day adventures.
There are also several different raft types, such as motor, oar, paddle, hybrid, and dory. Each of these different tour options provides a unique experience, as they all travel at different speeds, but motorized trips are the most popular.
Whichever tour you choose, you'll have the chance to appreciate the Grand Canyon deep within its walls while navigating its raging Class IV+ whitewater. Make sure to plan your rafting adventure early, as many of the guided tours sell out fast.
---
5. Explore the Beautiful Landscapes of Antelope Canyon
Few geological wonders are as captivating as Antelope Canyon, which is a unique slot canyon just east of Page in Northern Arizona. Known for its towering walls and wave-like structure that are the product of millions of years of erosion, it's a hotspot for nature lovers and photographers alike.
Guided tours are required at this natural wonder, and you'll need to choose between Upper Antelope Canyon and Lower Antelope Canyon. Lower Antelope Canyon is more open and more colorful, whereas, the upper canyon gives you the oppotunity to see a single beam of sunlight streaming down through the darkness.
If you want to see the sun beaming into Upper Antelope Canyon, visit between late March and early October. During that time, you can watch the light hit the walls to create a kaleidoscope of colors – from reds to purples.
Located in Glen Canyon National Recreation Area, nearby Horseshoe Bend is another one of Arizona's photogenic natural wonders. The hike to this famous cliffside overlook is a beginner-friendly, 0.6-mile trail from the parking lot. It ends with dramatic views over the Colorado River and the 1,000-foot-deep, 270-degree horseshoe-shaped bend.
For a different perspective, you can pick up a paddle and SUP, kayak, or canoe around Horseshoe Bend along the Colorado River. Alternately, thrill-seekers can take to the skies aboard a helicopter tour.
---
6. Enjoy Water Sports in Glen Canyon National Recreation Area
Glen Canyon National Recreational Area is an outdoor lover's paradise, featuring 1.25 million acres of stunning scenery that stretches from Lees Ferry in Arizona to the Orange Cliffs of southern Utah. It's also home to the ever-popular Lake Powell, one of the state's most popular lakes.
Outdoor recreation abounds in Lake Powell's deep turquoise waters, as its 2,000 miles of shoreline makes it the perfect spot for water sports and boating. It's also one of the best things to do in Arizona for fishing enthusiasts, with a chance for anglers to reel in bass, crappie, walleye, and catfish.
Water sports lovers are spoiled for choice with all the heart-racing adventures available on the lake. Wakeboarding, water skiing, and tubing are all popular activities at this natural wonder. You can bring your own boat or rent one when you arrive.
Kayaking is another great way to experience the lake's natural scenery, while land activities such as biking and hiking get you up close with its side canyons, slick rock hills, and passageways through slot canyons. For overnight adventures, campsites are available.
---
7. Drive Through the Iconic Landscape of Monument Valley
Monument Valley is not only one of the greatest natural landmarks in the US, but it's also one of the coolest things to do in Arizona. Located in Monument Valley Navajo Tribal Park, the surreal sandstone towers are some of the most photographed landscapes in the country.
These majestic sandstone structures tower 400 to 1,000 feet above the ground and are only part of the stunning desert landscape. Surrounding the pinnacles are miles of mesas, buttes, shrubs, and trees that span over 90,000 acres across Arizona and Utah.
Start your journey to Monument Valley at the Visitor Center where you can see the famous panorama of the Mitten Buttes and Merrick Butte. Afterward, take a self-guided tour along the 17-mile Tribal Park Loop or opt for a guided excursion with a Navajo guide, who will take you down into the valley in a Jeep for a narrated cruise past the unique formations.
In the summer, the onsite Haskenneini Restaurant serves native Navajo and American cuisines. If you want to pick up authentic arts, crafts, native foods, and souvenirs, you'll find Navajo vendors and roadside stands set up one mile before the Visitor Center.
---
8. Tour the Canyon de Chelly National Monument
Step back in time at Canyon de Chelly National Monument and explore the canyon walls that showcase hundreds of ancient pueblo ruins. Located in Chinle, it is set on Navajo tribal lands where a contemporary Navajo Indian community still inhabits the canyon.
Start your journey at the Welcome Center, then hop in the car and follow the two rim drives for a chance to pull over at 10 scenic overlooks. At the end of the South Rim Drive, you can marvel at the park's signature geological formation at the popular Spider Rock overlook.
Ranger-led programs are available, as well as hikes that offer bird's-eye views of the cliffs, livestock, cornfields, and homes at the bottom of the canyon. Guides highlight the history of this unique area, which is recognized as one of the longest continuously inhabited landscapes in North America, dating back to 350 and 1300 AD.
If you prefer a self-guided adventure, the White House Ruins Trail is the park's one public trail you can visit on your own. For an overnight excursion, take advantage of the many campsites in the Cottonwood Campground or book a hotel in Chinle.
---
9. Shop for Native American Crafts at Hubbell Trading Post
Less than an hour from the Canyon de Chelly National Monument, the Hubbell Trading Post is the oldest continuously operating trading post in the American Southwest. Showcasing the culture, tradition, and artistry of the West, this thriving trading post provided a link between the Navajo Nation and the rest of the world when it opened in 1878.
At Hubbell Trading Post, you'll find an excellent collection of authentic Navajo rugs and other Southwest American Indian arts and crafts. After you shop, you can browse exhibits on the Hubbell family and the history of trade in the region at the Visitor Center.
There are also ranger-guided tours available that will take you behind the scenes of the Hubbell home, while self-guided tours allow you to get up close with the homestead's sheep, chickens, and horses. You might even spot a demonstration weaver in action.
---
10. Marvel at the Unique Landscapes of the Petrified Forest
Home to ancient rock forests and colorful desert landscapes, the Petrified Forest is one of the most unique things to do in Arizona. Located near the town of Holbrook, it offers 13,000 years of human history and access to outdoor adventures such as hiking, camping, and horseback riding.
Come and experience one of the world's largest and most colorful collections of petrified wood, then explore the park's historic structures and archeological sites. In addition to marveling at 200-million-year-old fossils, you can follow designated trails that showcase beautiful views of the Painted Desert.
Visit Crystal Forest to see huge logs along a short 0.75-mile paved loop path of the ancient forest, or walk the Painted Desert Rim Trail for spectacular views of the colorful desert landscape. For something different, hike the 1-mile Blue Mesa Trail down into the badlands for a peek at yellow and red petrified wood on its grounds.
The main attraction on the 0.4-mile round trip Giant Logs Trail is "Old Faithful," a giant petrified tree that measures almost 10 feet across its base. However, if you want to see historic petroglyphs, add Puerco Pueblo and Newspaper Rock to your Petrified Forest itinerary.
---
11. Visit the Otherworldly Painted Desert
For a chance to immerse yourself in Arizona's natural scenery and see colorful otherworldly rocks in every hue, add the Painted Desert to your Arizona bucket list. Located in Northern Arizona – stretching from the Grand Canyon to the Petrified Forest – this picturesque region offers plenty of opportunities for hiking and photography.
Art comes to life on this natural canvas in Arizona, where a large region of rocky badlands encompasses more than 93,000 acres. You'll find every color represented along this vast landscape, from deep lavender to a range of reds, oranges, and pinks.
Learn about its millions of years in the making from volcanic eruptions to earthquakes to floods in the Visitor Center at the Petrified Forest, then get up close with the desert's beautiful rock formations and mesas. A popular time to visit is at sunset when the rocks transform into a vibrant array of colors.
The Petrified Forest is the easiest and best place to see the Painted Desert and its most popular vistas can be found in the northern half of the park. Alternately, the nearby Little Painted Desert County Park is another popular vantage point at sunset.
---
12. Ski the Slopes at Arizona Snowbowl
One of the top ski resorts in the state, winter sports enthusiasts should add the Arizona Snowbowl to their list of things to do in Arizona. Located in Flagstaff, the resort is set on the San Francisco Peaks at an elevation of 11,500 feet.
With one of the longest skiing seasons in the state, skiers and snowboarders have access to over 700 skiable acres at this resort with a vertical drop of 2,300 feet. It receives about 260 inches of natural snowfall per year and also uses a state-of-the-art snowmaking system so that it can provide a consistent season from late-November to around mid-April.
Rental packages are available for those without gear and there's also a sports store available where you can purchase equipment. If you want to improve your skills or are nervous about getting back on the slopes, sign up for one of their private lessons or ski school.
In summer, you can ride the scenic chairlift ride up 11,500 feet for a bird's-eye view of the dramatic scenery. On a clear day, you'll have the chance to spot the red rocks of Sedona and the Grand Canyon in the distance!
---
13. Discover the Energy Vortexes in Sedona
Sedona is one of Arizona's most beautiful destinations, beloved for its red rock formations, hiking trails, and mysterious vortexes. These vortexes are found in the city's natural attractions and are said to be centers of energy in the earth. The most popular locations are along the hiking trails at Boynton Canyon, Airport Mesa, and Cathedral Rock.
While visiting the vortexes some visitors claim to feel a tingling sensation on their skin, a slight vibration from the ground, or even seeing colorful orbs floating around them. The result is a sort of spiritual healing and a sense of rejuvenation and relaxation. Though don't be surprised if you don't experience any of these sensations!
After you experience these accessible energy vortexes, get out and explore the rest of what Sedona has to offer. Uptown Sedona features charming boutiques, galleries, and restaurants, and is a great spot to base yourself while exploring the city.
Red Rock State Park is home to Sedona's most famous formations, while the Red Rock Scenic Byway offers plenty of pit stops where you can appreciate the gorgeous scenery. For some of the best views, lace up your hiking boots and hike the trails at Devil's Bridge, Cathedral Rock, and Bell Rock.
---
14. Take a Step Back in Time at Montezuma Castle National Monument
History buffs and nature lovers alike can appreciate the beauty of Montezuma Castle National Monument, one of the best-preserved cliff dwellings in the US. Carved out of an ancient limestone cliff, this 5-story-tall Native American dwelling is a sight to behold.
Dating back to the 12th-century, this unique structure took about three centuries to complete. It was built by a group connected to the Hohokam people of Southern Arizona and features 20 rooms that once housed an entire village of ancient indigenous people.
Start your journey at Montezuma Castle at the Visitor Center and on-site museum to learn more about its rich history. Afterward, you can wander the 0.33-mile scenic loop trail through a beautiful sycamore grove sitting at the base of the limestone cliffs and enjoy its unobstructed views.
If the weather is nice, the site has a picnic area where you can enjoy lunch and take in Beaver Creek views. If you want an even more in-depth look at this site, check out the various ranger programs that cover a wide range of fascinating topics.
---
15. Visit an Eerie Ghost Town
Founded in 1876, Jerome was once home to the wealthiest mine in the world. Dubbed the "Wickedest City in the West" in 1903, this boomtown was the largest producer of copper, gold, and silver in Arizona.
Now, it's the largest ghost town in the West and worth a detour on your Arizona road trip. Declared a National Historic Landmark in 1967, it has been restored with historic accuracy where art aficionados come to explore its multiple studios, galleries, and monthly Art Walk.
Experience the historic atmosphere while visiting its many attractions, which include unique specialty shops, wine tasting rooms, and quaint bed and breakfasts. If you want to learn more about the lifestyle of the wealthy mine owners from 100 years ago, visit the Jerome State Historic Park.
Near Jerome's Visitor Center is the Sliding Jail Park, one of the town's quirkiest attractions that slid down a steep mountain, 200 feet from where it was built. You can also browse historic exhibits at the Mine Museum or take a ghost tour and discover the spooky side of Jerome.
---
16. Paddle the Waterways in Prescott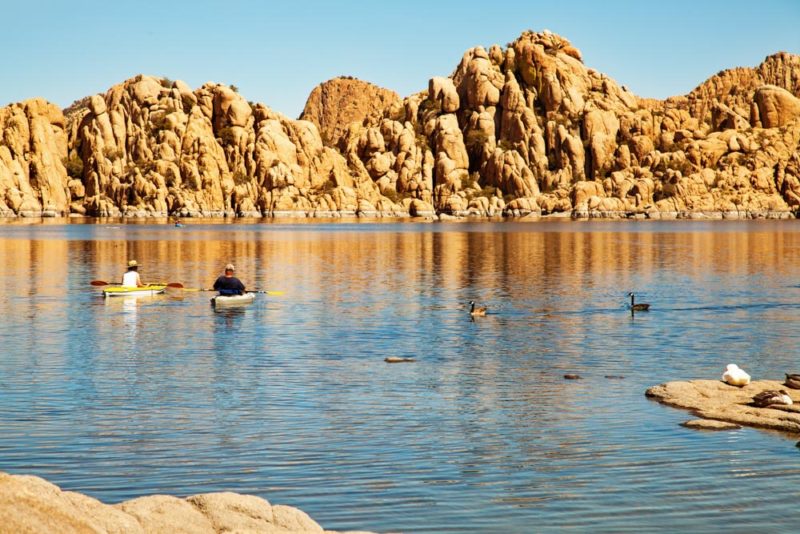 Located at an elevation of 5,300 feet, Prescott is an appealing destination year-round and offers an array of outdoor recreational opportunities. In addition to more than 400 miles of hiking and mountain biking, its beautiful lakes are ideal for paddling, boating, and fishing.
Get out on the water at Watson Lake, which offers a stunning landscape of granite hills and boulders that rim the waterways. While swimming is not permitted here, kayaking and canoeing are popular from spring until fall at Watson Lake Park.
The Lynx Lake Recreation Area is also a great spot for kayaking or enjoying a picnic in its beautiful pine mountain setting, while the 15-acre Goldwater Lake is a family-friendly spot with facilities. Set in the Granite Dells, Willow Lake Park is a popular area for kayaking, canoeing, and bird-watching.
After your outdoor adventures, check out some of Prescott's other top attractions. Wander the historic streets of downtown where you can check out the Victorian homes, turn-of-the-century saloons on Whiskey Row, and various community events that are held in the lively Courthouse Plaza.
---
17. Learn About Native American Art & History at the Heard Museum
If you're interested in history, art, or the cultures of American Indians of the Southwest, spend some time browsing the Heard Museum in Phoenix. Showcasing traditional and contemporary American Indian art, this renowned cultural museum features more than 44,000 pieces of art, including authentic basketwork, pottery, jewelry, and textiles.
Get up close with its collection of traditional arts at this top-rated Native American museum, where you'll get a comprehensive introduction to Arizona's historic cultures. You can learn the stories of American Indian people from a first-person perspective as you explore the 12 exhibition galleries.
Outdoors, there's a unique sculpture garden, as well as an outdoor cafe with courtyard seating. You don't want to miss the museum shop, which features an extensive collection of American Indian-made artwork, books on Native art and culture, and souvenir and gift items.
Check the calendar before you visit, as the museum also hosts educational programming and festivals throughout the year.
---
18. See Cacti at the Desert Botanical Garden
Located in Phoenix's Papago Park, the Desert Botanical Garden boasts the world's best collections of arid plants from the desert. All ages will love exploring the beautiful 140-acre complex that features more than 50,000 desert plants along its thematic trails.
The scenic trails wind throughout the garden and you might even spot hummingbirds and butterflies along the way. Expect to see various species of cacti, trees, and flowers from across the globe, with the brightly colored plants offering a unique landscape paired with the Sonoran Desert.
Hike to the top of the Sonoran Desert Nature Loop Trail for beautiful mountain views, or learn about sustainability on the Center for Desert Living Trail. During the height of the blooming season, you won't want to miss the colorful displays along the Desert Wildflower Loop Trail.
The garden hosts an array of unique events throughout the year, from its Music in the Garden Spring Concert Series to the Sonoran Sippin' with floral-inspired drinks. Kids will love playing outside at the Cactus Clubhouse event, while pet lovers can bring their four-legged friends along for the Dog Days at the Garden.
---
19. Go Road Tripping Along the Legendary Route 66
Affectionately known as "The Mother Road," Route 66 offers the quintessential American road trip experience. This epic route crosses eight states – including Arizona – and three time zones.
Stretching from Chicago to the Santa Monica Pier, this road trip will take you past some of the most iconic roadside scenes in the US, from vintage rural gas stations to classic diners to quirky Americana landmarks. Good news if you're headed to Arizona, as it is home to some of the best Route 66 road trip attractions!
Take advantage of the retro-chic photo-ops in Williams, including the bright red car on the roof of Cruiser's Route 66 Cafe. Alternately, you can browse the vintage cafes and admire retro neon signs in the photogenic railroad town of Seligman.
The Arizona Route 66 Museum in Kingman is an essential Route 66 stop if you're interested in its history, while Hackberry General Store offers unique Route 66 memorabilia and kitschy souvenirs. Don't forget to say hello to the small donkeys that roam the streets of Oatman.
---
20. Browse Art Galleries & Museums in Tucson
Tucson is home to an impressive range of fantastic museums, while art lovers will appreciate its collection of world-class galleries. After you visit Arizona-Sonora Desert Museum, get up close to famous artwork and historic artifacts at Tucson's other cultural hotspots.
Located in the historic downtown, Tucson Museum of Art features western, Latin American, and modern and contemporary pieces. Alternately, MOCA—the Museum of Contemporary Art in Tucson's art district showcases contemporary artwork from around the globe.
If you're an aviation lover, the Pima Air & Space Museum has more than 400 historic aircraft and 125,000 artifacts on display, including an Air Force One used by JFK and Lyndon B. Johnson. Kids will love The Mini Time Machine Museum, which houses interactive exhibits and miniature displays.
Listed on the National Register of Historic Places, the De Grazia Gallery in the Sun was built by acclaimed Arizona artist Ettore De Grazia to display paintings highlighting historical events and native cultures of the Southwest. If you like quirky attractions, the Ignite Sign Art Museum features a unique collection of historic neon signs from Arizona.
---
21. Enjoy Outdoor Adventures in Saguaro National Park
Most travelers visit Saguaro National Park to see the towering, giant saguaros in their native environment, but this expansive park offers so much more than that. In addition to spectacular hiking trails, you'll also have access to wildlife viewing, camping, and scenic drives.
Home to the country's largest cacti, the park's giant saguaro is considered a symbol of the American West. The Sonoran Desert is one of the only places you can see these plants in the United States. They can reach up to 50 feet and live more than 200 years!
The Visitor Center features a collection of museum exhibits and is also the starting point for some of the park's best hiking trails and scenic drives. If you're traveling with your little ones, the self-guided Desert Discovery Nature Trail is great for families and features informative signs about the Saguaro cactus and desert landscape.
Cars can follow the 6-mile graded dirt road along the Bajada Loop Drive, while hikers of all skill levels can follow the short 0.8-mile Valley Look Overlook Trail for an up-close look at the prickly cacti. If you want to see 800-year-old petroglyphs, follow the 0.5-mile Signal Hill Petroglyphs.
---
22. Take the Kids to the Arizona-Sonora Desert Museum
If you're looking for things to do in Arizona with kids, take them to the Arizona-Sonora Desert Museum. Located adjacent to Saguaro National Park and just 15 miles west of downtown Tucson, this family-friendly attraction is one of the country's best outdoor living museums.
Focused on the preservation of the Sonoran Desert, this isn't your typical museum experience as 85% of the zoo-like museum is actually outdoors. Nature-loving families will have the chance to explore the museum's 98 acres and see over 200 animal species, including coyotes, black bears, and a mountain lion, as well as over 50,000 individual plants.
Prairie dogs and Great Blue Heron can be spotted in the Desert Grassland area, while Cat Canyon features grotto settings home to bobcats and a gray fox. You can stretch your legs while learning about agave plants and native palo verde trees along the Desert Loop Trail, which features Saguaro cactus and coyotes.
Take a self-guided walk through the museum's scenic trails, then step inside the Warden Aquarium to see fresh and saltwater species and get hands-on at the Stingray Touch experience. There's also a Riparian Corridor with adorable river otters and beavers and 20 species of native birds in the Walk-In Aviary.
---
23. Experience the Wild West in Tombstone
Visiting Tombstone is one of the coolest things to do in Arizona, as this famous Wild West town epitomizes western folklore. As you walk down the wooden boardwalks along the main drag of this mining town, you can feel the spirits of some of the West's most notorious characters, including Wyatt Earp, Doc Holliday, and the Clanton brothers.
In addition to the infamous gunfight at the O.K. Corral, a visit here offers insight into how it became a boomtown of the Wild West in the 1880s. Dubbed "The Town Too Tough to Die," it once offered entertainment for miners, featuring everything from opera and theater to dance halls and brothels.
Don your favorite cowboy hat and explore this historic town, where you'll find numerous saloons, restaurants, and shops lining Allen Street. Browse the museum at Tombstone Courthouse and learn about the major events that shaped this town at the Historama Theater.
Stay long enough to see live reenactments of famous shootouts from actors dressed in period costumes. The staged gunfight at the O.K. Corral the most popular! Afterward, tour the C.S. Fly's Photo Gallery to see historic photos and walk through the O.K. Corral Stables, which look just like they did in the 1880s.
---
24. Stroll Through Downtown Bisbee
Known for being whimsical, colorful, and maybe a little haunted, Bisbee is one of Arizona's most unique destinations. Located near the state's southernmost border, there's a lot to explore in this tiny historic town.
Meander through Bisbee's winding, narrow streets to admire its preserved architecture and landscaped parks, then pop into one of the shops or galleries. You'll find an array of cultural activities on offer in this picturesque town, including the Bisbee Farmers Market, which showcases local vendors and live music.
If you want to learn about how the turn of the century mines in Bisbee operated, take the Queen Mine Tour through part of its seven levels and 143 miles of passageways. However, those interested in the town's spooky side can take an evening walk with Old Bisbee Ghost Tour.
You can also visit the Bisbee Mining and Historical Museum to see exhibits highlighting how the area developed and what life was like in Bisbee a century ago. This town is known for its long list of annual festivals, including the popular Bisbee 1000 The Great Stair Climb event that is typically held in late October.
---
25. Visit an Observatory for Stargazing
If you're a fan of astronomy, Arizona offers some of the best stargazing opportunities in the country. Having long fought against "light pollution" and city glare that affects the night sky, this state offers an array of world-class observatories and designated dark sky regions.
One of the coolest things to do in Arizona, Lowell Observatory in Flagstaff is one of the oldest observatories in the US. Take a constellation tour, explore interactive exhibits, and peer at the moon, Jupiter, and stars through one of the telescopes.
Located in southern Arizona, the University of Arizona's Mount Lemmon SkyCenter is a must-visit for amateur stargazers. The facility also offers family-friendly tours and demonstrations. You can take a scenic drive southwest from downtown Tucson to Kitt Peak National Observatory to enjoy its daily tours and interactive programs.
If you prefer to stargaze surrounded by nature, Arizona is home to a long list of International Dark Sky Parks. These include the Grand Canyon, Parashant National Monument in the north, Kartchner Caverns State Park and Tumacácori National Historic Park in the south, and the Petrified Forest in the east.
There you have it! 25 of the best things to do in Arizona. What's your favorite thing to do in the Grand Canyon State?
---
Planning a trip to Arizona? Check out our favorite books and travel guides!
---
SHARE THIS ON PINTEREST
---