Santorini, Greece is one of the Cyclades islands in the southern Aegean Sea about 120 miles southeast of Greece's mainland. An enormous volcanic eruption destroyed a formally single island and created a giant caldera containing several smaller islands including Santorini. The island offers massive steep cliffs, diverse volcanic rock beaches, and stunning white-washed architecture.
The beautiful stark white buildings combined with the spectacular sea views have made it one of the most popular tourist destinations in the world. And it is stunningly beautiful, especially around sunset. But it is also quite a bit larger than you may expect and incredibly crowded.
Follow these do's and don'ts to get the most out of your holiday in this Greek paradise!
Disclaimer: This post may contain affiliate links. If you make a purchase or booking through one of our links we may earn a small commission (don't worry, it's at no extra cost to you).
---
How Long to Spend in Santorini
Even though the island of Santorini is fairly compact, you'll find that there is lots to do there. The roads are also quite winding so it will take you longer to drive around the island that you're probably anticipating.
We recommend spending at least 3-4 day exploring and relaxing, but even if you only have 1 day in Santorini it's enough time to see the highlights!
Do's and Don'ts of Santorini, Greece
Do: Splurge on a Hotel With a View
How often are you going to vacation in Santorini? It's a bucket list adventure for most people so do it right! Deciding where to stay in Santorini will have a huge impact on how you experience the island. Splurge a little to get an amazing hotel with views of the sea and a pool for afternoon lounging.
We stayed at Gonia Residences which is an absolutely stunning house with 3 large bedrooms, 2 full bathrooms, a stocked kitchen, a large living room area, a beautiful patio with stunning views of Pyrgos, and a private plunge pool. If Gonia Residences is unavailable then here are some of the best Santorini hotels.
Don't: Assume you Have to Stay in Oia
Oia has some of the most spectacular views on the entire island, but parking will be extremely difficult and you'll be forced to deal with buses full of tourists every time you leave your hotel.
There are beautiful hotels all over the island and so much to explore beyond Oia.
---
Do: Rent a Car
Santorini is actually quite large and the beautiful towns and beaches that you'll want to visit are spread out all over. If you want to see everything that the island has to offer on your own schedule, you'll definitely need to rent a car.
There is one major road that runs the length of Santorini and most of the beaches and towns are fairly easily accessible. There are also many free public lots so parking is rarely an issue.
There are plenty of car rental companies at the ferry terminal as well as many choices at the airport. Be sure to document any existing damage with photos, just in case.
Santorini Road Trip Itinerary
Spend your first day exploring the north end of the island; head to the village of Oia at sunrise, then to Ammoudi Bay for the freshest grilled seafood at Dimitris Ammoudi Taverna and get an adrenaline rush cliff-jumping at a popular spot just around the bend. Finish out your day with dinner, sunset cocktails, and late night souvenir shopping in Fira.
Spend day two on the south end of the island; have a quick stop at Red Sand Beach for the views and then take the boat taxi to White Beach, and finally spend your afternoon snacking and lounging on Perissa Beach. Stop at the port to make plans for a fishing trip for your third day on the island. Enjoy amazing sunset views, delicious local wines, and appetizers at Santos Winery.
Don't: Underestimate How Difficult it is to Drive
Mopeds, 4-wheelers, and gigantic tour buses seem to dominate the narrow roadways of Santorini. Take it slow and expect everyone to pass you, regardless of whether or not it is safe. If you find yourself head-on with a tour bus, pull as far off to the side as you can, tuck in your sideview mirrors, and trust that the bus drivers know what they're doing.
---
Do: Spend a Day Lounging on Perissa Beach.
Perissa Beach has black sand and is the longest beach in Santorini. The beach is sandy, the water calm and clear, and it is not overly crowded as there is so much beach to go around. Most of the restaurants offer free lounge chairs if you purchase lunch or drinks and you'll have a waiter checking on you regularly. Enjoy mixed plate and house wine while relaxing on your cushioned, shaded lounge chair at Pepito.
Don't: Spend Too Much Time at Red Beach
The view of Red Beach from the pathway that leads down to the beach is beautiful. The red sand looks so vibrant next to the turquoise water. But the actual beach is small, crowded, and the sand and water are full of seaweed debris. Also, when you get up close, the "red sand" is more like brown sand. It's worth checking out but don't plan on spending the day there. There is a small area of lounge chairs with umbrellas but most of the beach is a crowded free-for-all.
Don't forget to check out all of the other amazing Greek islands!
---
Do: Watch Sunset at Santos Winery
Santos Winery is positioned high on a hill in Pyrgos with views of the sea and scattered islands. They offer delicious wines from a variety of Greek wineries and you can order tastings as small as 6 and as large as 18. Arrive a few hours before sunset to guarantee a front table (or even better, make a reservation ahead of time). Sip on a range of wines that suit any palette and munch on a charcuterie plate until closing time. It's arguably one of the best sunset spots in Santorini!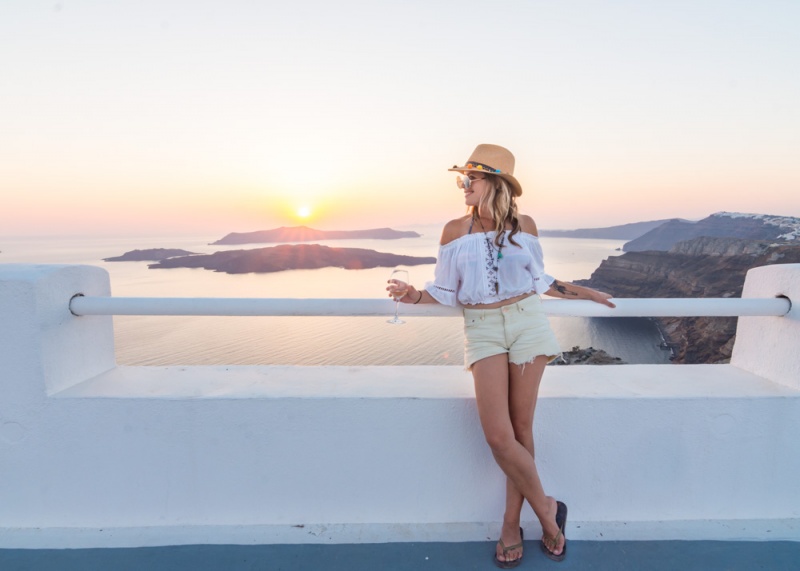 Don't: Attempt to Drive to or From Oia Around Sunset
The traffic in Oia is challenging to say the least no matter what time of day you attempt to visit. The streets are narrow and it is a popular tour bus destination. If you attempt the drive close to sunset time you will end up enjoying the views from your car in bumper-to-bumper traffic. If you don't want to miss an Oia sunset, arrive early and plan on hanging out late.
Looking for a hotel in Santorini? Check out Best Places to Stay in Santorini!
---
---
Do: Hire a Fishing Boat
Head down to Vlichada port and ask around for Captain Nick's fishing boat. For 600 euros you'll have a large fishing boat, a captain, a deckhand, and an English-speaking steward all to yourself for a 6-hour morning or evening cruise around the island.
The sunset trip departs at 3:00pm and you'll get amazing views of the cliffs and the beaches on your way out to pick up the nets they dropped hours before to see what you've caught for dinner. The steward is incredibly attentive and your wine glass will never be empty for long. You'll have a swim while they prepare a delicious dinner of fresh fish, Greek salad, fava bean dip, fried tomatoes, rice pilaf, and fried bread.
On the way back you'll enjoy amazing sunset views while 2 fishing poles troll for "second dinner" which can be prepared back at the restaurant on the dock.
Don't: Take a Crowded Catamaran Booze Cruise
While catamaran cruises are generally a good time, make your Santorini adventure more memorable by actually catching your own dinner! The booze cruises in Santorini are crowded and rowdy so if you're over the age of 30, you'll probably feel more comfortable on your own private boat.
---
Do: Visit Oia at Sunrise
If you want unobstructed views of the white-washed buildings and blue-roofed churches of Oia before the crowds and the heat make it unbearable, head to the small town at sunrise. Meander down the maze of alleyways on the hillside that often lead to amazing views and occasionally dead end.
Admire the gorgeous views of the city on the hill and be sure to catch the famous church that is a popular place for wedding photoshoots. Photographers and a few tourists will be out as well but it's the best time to get unobstructed photos of the idyllic town setting. But don't just stick to the main church spot, every little alleyway has something special to offer!
Don't: Visit Oia at Midday
Oia is absolutely stunning but it is also the most popular tourist destination on the island and the low white-washed restaurants and shops offer minimal shade. If you find yourself in the thick of it at midday you'll need to dart between small shady spots or duck into an air-conditioned cafe or shop or end up sunburned and sweat-drenched.
Plus the tour buses descend on this small area around 10:00am so you'll contend with massive crowds.
---
Do: Shop in the Evenings in Fira
The little town of Fira comes alive around dawn when tourists put on their fancy vacation outfits and search for the best spot to watch as the sky turns a hazy shade of pink. Head to V Lounge for generous wine pours, great music, attentive service, and the best views of the city below.
After sunset move on to the alleyway shops that stay open late to pick up a few souvenirs. You'll find that it's much more comfortable to wander the streets when the sun has set and temperatures begin to cool off.
Don't: Miss a sunset in Santorini. Ever.
No matter where you are on the island the sunsets are spectacular. Plan your day around them and be sure you are in a prime location with a cold glass of white wine in hand.
Looking for more advice on Santorini? Check out: Things to do in Santorini!
---
Do: Check out White Beach via Taxi Boat from Red Beach
Inexpensive boat taxis come by every 30 minutes or so and drive back and forth between the two beaches. Leave your car in the parking lot and hop on the boat to check out the small, elusive white sand beach.
Don't: Drive to White Beach in a Rental Car
The advice from the rental car company was to drive pretty much everywhere on the island except here. It's a rutted dirt road and you're very likely to bottom out your sedan. And then instead of enjoying your day at the beach, you'll have to track down a tow truck and make an embarrassing call to the rental company.
---
Do: Learn a Few Words in Greek
"Ef-car-ees-toe" is "thank you", "ee-ya-sis" is "hello" and/or "goodbye", "yamas!" is "cheers!", and "pa-la-ca-lore" is "please". Most locals either speak fluent English or can find someone who can act as a translator but as they'll appreciate if you try (and they'll be entertained by your effort).
Don't: Take Wait Another Minute, Plan Your Trip to Santorini!
---
Looking for more details on what to see and do in Greece? Check out our favorite books!
---
SHARE THIS ON PINTEREST